iOS 8 May Streamline Notification Center, Remove Game Center App, and More
Besides adding new Healthbook, TextEdit and Preview apps, Apple may also change existing pre-bundled applications in iOS 8, claims 9to5Mac. Apps slated for improvement include Notification Center, Voice Memos, Messages, Game Center and CarPlay.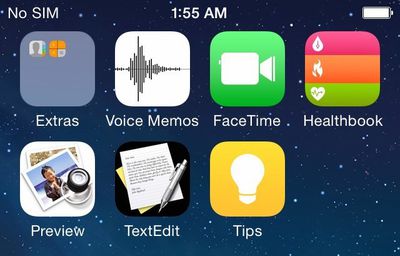 Apple may be simplifying existing apps like Notification Center, doing away with the "All" and "Missed" views and combing them into one "Notifications" view. The new Notification Center will contain "Today" and "Notifications" views, making it easier for users to keep track of items that are immediately important. Voice Memos also will see a redesign with controls that distinguish between recording and playback functions.
Messaging may be tweaked with an optional auto-delete function that will remove older messages after a certain amount of time. This new feature would be useful for iOS owners who have older devices with less storage space and prefer not to use that valuable space to store old messages.
Apple also may remove Game Center as a standalone app from both iOS and OS X, opting instead to embed the functionality into games that support the social gaming service. The company also is considering improving inter-app communication by creating a new API that allows apps to share data.
For example, a future photo editing application could have the ability to push the edited content for upload via the Instagram or Facebook apps. The debut of the API has been in development for the past couple of years, and it had been removed from the launch version of iOS 7 last year for unspecified reasons. With that in mind, it is plausible that Apple could, again, choose to hold back the functionality.
As hinted by Volvo, CarPlay may be updated to support WiFi connections instead of relying on the lightning cable to link an iOS device to the car's in-dash system. Also expected are underlying improvements that boost the performance of iOS 8.
In addition to the in-app tweaks, Apple has been working to speed up iOS 8 in comparison to iOS 7. Applications are said to launch more quickly, close more quickly, and overall system navigation is said to feel much smoother and more stable. Apple sped up animations and improved stability in the recent release of iOS 7.1, but the enhancements in iOS 8 are said to go a bit further.
From these early iOS 8 rumors, Apple appears to focusing on the overall iOS experience by improving key apps like Maps, Siri and Notification Center and speeding up performance of the operating system. The company is expected to unveil iOS 8 at WWDC later this year, with a release possible this fall.