Israeli Prime Minister Benjamin Netanyahu met with Apple CEO Tim Cook for lunch yesterday at Apple HQ in Cupertino, California.
Netanyahu is traveling through the United States for the American Israel Public Affairs Committee and also met the founders of popular messaging app WhatsApp as well as the president of Stanford University.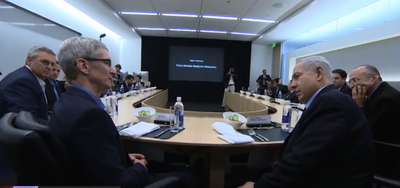 While it's not clear what Cook and Netanyahu could have talked about, video from the event has now emerged on the prime minister's YouTube channel (via 9to5Mac).
Cook has met with the leaders of nations before, as he met Turkish President Abdullah Gül in February
prior to the opening
of a new Istanbul Apple Store and has met President Obama on
multiple occasions
.
In recent years, Apple has seen its relationship with Israel grow as the company has acquired Israeli-based companies PrimeSense and Anobit in addition to hiring for a new research and development center in Haifa, Israel.