Apple to Reportedly Stop Production of 13-Inch Non-Retina MacBook Pro Later This Year
Apple will cease production of the 13-inch non-Retina MacBook Pro later this year in favor of its thinner Retina notebooks, according to a new report from DigiTimes. The 13-inch non-Retina MacBook Pro, which last saw an update in June 2012, has remained as Apple's only MacBook Pro without a high-resolution screen after the 15-inch non-Retina MacBook Pro was discontinued last year.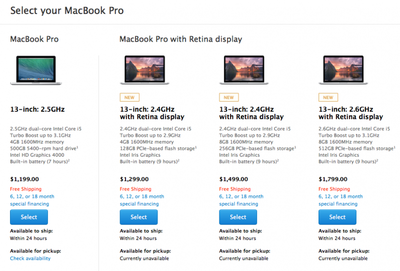 Apple has been expected to discontinue its standard MacBook Pros for quite some time in favor of an all Retina lineup. After Apple announced and subsequently released updated Retina MacBook Pros last October, the company cut the price of the entry level 13-inch Retina model to $1,299 - just $100 more than the non-Retina version.
The company is also expected to update its 13-inch and 15-inch Retina MacBook Pros in the future with Intel's forthcoming Broadwell chips, however the exact timing of those updates remains uncertain and differs for both models. While chips for the 13-inch Retina MacBook Pro are not expected to launch until the first quarter of 2015, chips for the 15-inch models are expected to be released at certain points throughout 2014. Rumors have also suggested that Apple is working on a 12-inch Retina notebook for the middle of this year.