After the announcement and subsequent release of Apple's new Retina MacBook Pros with updated processors and faster storage, the company has apparently discontinued the 15-inch non-Retina MacBook Pro which leaves only the 13-inch non-Retina MacBook Pro alongside the current line of Retina MacBook Pros.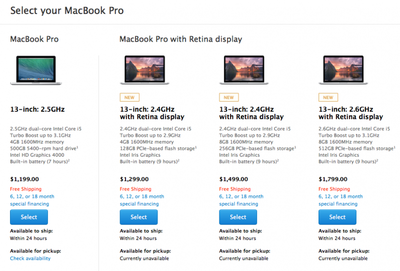 The 13-inch non-Retina MacBook Pro being sold is of the exact same model and specification that was introduced in 2012, featuring no significant changes aside from OS X Mavericks coming pre-installed on the system. Priced at $1,199, the 13-inch non-Retina MacBook Pro is now just $100 cheaper than the Retina version. Apple has been long expected to discontinue its standard MacBook Pros in favor of an all Retina lineup and with a $200 discount on its entry-level Retina models, pricing is nearly on par with its former non-Retina offerings.
Apple today unveiled new 13 and 15-inch Retina MacBook Pros, which have been updated with Intel's latest processors for enhanced performance and significantly improved battery life. The entry-level 13-inch version is available for $1,299 while the entry-level 15-inch model is available for $1,999. Both models are available today from Apple's Online Store and at its various retail locations.