Microsoft is set to cut pricing of Windows 8.1 by 70 percent for computer and tablet manufacturers, according to Bloomberg, partly due to increased competition from both Apple and Google in the PC space.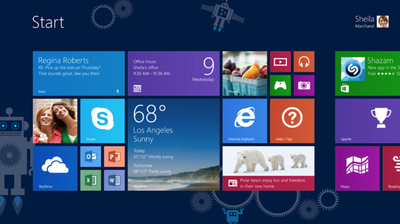 Stronger competition from Apple Inc. (AAPL) and Google cut revenue last quarter at Microsoft's devices and consumer licensing division, which includes Windows software, as the computer industry posted its biggest annual decline on record. By offering incentives for PC makers to sell cheaper models, Microsoft may be able to increase its share of the growing $80 billion tablet market and stave off Chromebooks, notebooks that run Google's operating system.
Under the new terms, manufacturers will be charged $15 for Windows 8 licenses to preinstall it on devices that retail for less than $250. Previously, the fee was $50, although many manufacturers were able to pay $30 because of incentives provided by Microsoft.
The software company said last month that Windows 8 adoption was moving at a slower pace than Windows 7. Over the past several years, notebook and desktop PC sales have declined as lighter, more portable tablets have surged in popularity -- an area that, so far, Google and Apple have dominated.
In recent years, Apple has been the top vendor in the PC market, selling more combined tablets, notebooks and desktops than any other manufacturer. Research firm Canalys predicted that tablets would account for half of all shipped PCs in 2014, with Apple taking up 30 percent of tablet shipments, Google's Android taking up 65 percent of tablet shipments and Microsoft taking up 5 percent of tablet shipments.