Tablets Predicted to Make Up Half of Total PC Shipments in 2014, iPad to Fall Further Behind Android
Over the course of the last several years, notebook and desktop PC shipments have declined as lighter, more portable tablets have surged in popularity and begun replacing traditional computers. In 2014, tablets will come even closer to dominating the PC market, accounting for half of all shipped PCs, according to a prediction from research firm
Canalys
.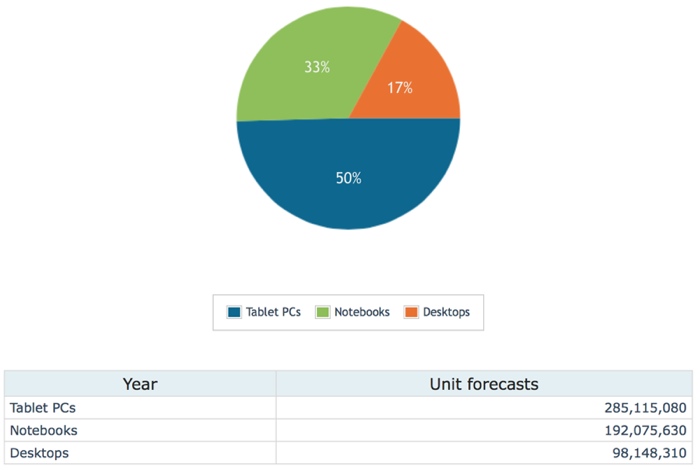 Out of the total PC market, which includes notebooks, tablets, and desktops, tablets are predicted to make up a total of 50 percent of all shipments. Apple's iPad line up will account for 30 percent of tablets shipped, while Android tablets will make up 65 percent of shipments. Microsoft's tablets are expected to be responsible for five percent of total tablet shipments.
In the third quarter of 2013, tablet PC shipments accounted for 40 percent of total PC shipments. Canalys forecasts 285 million tablet shipments in 2014, which will surge to 396 million units shipped in 2017.
While Apple will remain a highly profitable player in the PC market over the course of 2014, Canalys expects that the company will see a decline in its market share. In 2013, Apple managed to hold the top vendor position in the PC market thanks to combined sales of iPads and its desktop and notebook computers.
"Apple's decline in PC market share is unavoidable when considering its business model. Samsung narrowly took the lead in EMEA this quarter and Apple will lose its position to competitors in more markets in the future," said Canalys Senior Analyst Tim Coulling. "However, Apple is one of the few companies making money from the tablet boom. Premium products attract high value consumers; for Apple, remaining highly profitable and driving revenue from its entire ecosystem is of greater importance than market share statistics."
In August, Canalys' research suggested non-iOS tablets had
surpassed
the iPad in global market share for the first time, with Apple responsible for 42.7 percent of tablet shipments while tablets from Samsung, Amazon, Acer, Lenovo, and others combined to make up 57.3 percent of shipments.
Canalys predicts that Apple's share of the tablet market will shrink further in 2014 under the continued onslaught of less expensive Android and Windows tablets. Apple's cheapest tablet is the original iPad mini, which is priced at $299 and still significantly more expensive than competing products like the $229 Nexus 7 from Google and the $229 Kindle Fire HDX from Amazon.