Intel's Processor Roadmap Leaves Uncertainty for Apple's 2014 Mac Updates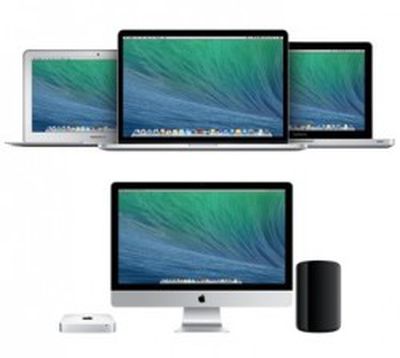 With Apple's Mac lineup beginning to show signs of aging, consumers are no doubt starting to wonder when they can expect updated models to hit the market. Apple's product update cycles are in large part driven by availability of new processors, so it pays to take a look at Intel's roadmap to see what might be coming when to give Apple new options for upgrades.
The MacBook Air is currently the older of Apple's two current notebook lines (setting aside the non-Retina MacBook Pro that has been reduced to a single 13-inch model and hasn't been updated since June 2012). Apple's ultrathin notebook currently offers a choice of two low-power 15-watt Haswell chips to help achieve remarkable all-day battery life. Entry-level models include a 1.3 GHz i5-4250U chip, while higher-end models bump up to a 1.7 GHz i7-4650U processor. Both chips include Intel's "Iris 5000" integrated graphics that offers reasonable everyday performance in a power-efficient design.
According to an Intel roadmap leaked by VR-Zone [Google Translate], a successor to the current low-end chip is set to launch in the third quarter in the form of an i5-4260U Haswell refresh, presumably carrying just a small speed bump compared to the current chip. Another alternative for Apple could be the 1.4 GHz i5-4350U or its just-announced successor 1.5 GHz i5-4360U. The 4350U chip has been available since last year, but Apple elected not to use it in the current MacBook Air. The high-end MacBook Air situation is less clear, as leaked roadmaps have not yet shown a direct successor to the current i7-4650U chip.



Intel roadmap for 15-watt chips appropriate for MacBook Air
One other potential wildcard for the MacBook Air is a series of rumors claiming that Apple is working on a
12-inch Retina notebook
of some kind for the middle of this year. Rumors have suggested that this machine could replace the current MacBook Air line, in which case all bets would be off on which chips Apple would use for the new machine.
Moving on to the Retina MacBook Pro, it is worth examining the 13-inch and 15-inch models separately, given the distinct differences in chips used in the two models. The 13-inch Retina MacBook Pro currently offers three different processor options: a 2.4 GHz i5-4258U, a 2.6 GHz i5-4288U, and a 2.8 GHz i7-4558U. All three chips are shown on a separate roadmap slide leaked by VR-Zone, and they show limited potential for updates in the near future.
Many potential buyers are looking forward to the next big jump to Intel's next-generation Broadwell platform, but that launch has been delayed and the latest roadmap shows that Broadwell chips appropriate for the 13-inch Retina MacBook Pro are not planned to launch until the first quarter of 2015, leaving questions about what upgrades Apple might be able to make in the interim. The roadmap hints that speed bumped versions of the current Haswell chips could appear in the fourth quarter but that appears to not be a certainty at this point and would only be a very short-term option heading into Broadwell.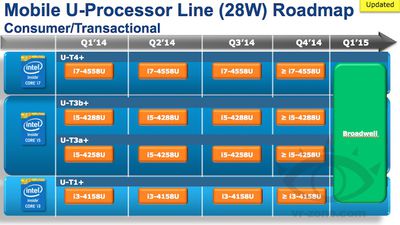 Intel roadmap for 28-watt chips appropriate for 13-inch Retina MacBook Pro
The 15-inch Retina MacBook Pro also poses some questions, and the roadmap for those more powerful quad-core chips is not included in the most recent set of leaked slides. The 15-inch lineup currently offers three processor options: a 2.0 GHz i7-4750HQ, a 2.3 GHz i7-4850HQ, and a 2.6 GHz i7-4960HQ. Intel has in fact already announced a successor for the mid-range chip, a
2.4 GHz i7-4860HQ
, with an i7-4760HQ upgrade for the low-end reportedly not arriving until the third quarter. The high-end chip remains in question, as we have not yet seen concrete signs of an upgraded version.
Intel is said to be accelerating its Haswell refresh launch in order to buffer against delays in Broadwell, with additional Haswell chips reportedly set to be announced within the next month or so. It is certainly possible that the company will announce chips that provide upgrade options for Apple as soon as the company's Worldwide Developers Conference likely scheduled for June, but specific information regarding a range of chips to fully satisfy Apple's needs remains limited.
As for Apple's desktops, the outlook is somewhat more clear at least in terms of the iMac. Intel's imminent Haswell refresh announcement is expected to include direct successors to most of the chips currently used in the iMac:
27-inch
- Current 3.2 GHz i5-4570 moves to 3.3 GHz i5-4590
- Current 3.4 GHz i5-4670 moves to 3.5 GHz i5-4690
- Current 3.5 GHz i7-4771 moves to 3.6 GHz i7-4790
21.5-inch
- Current 2.9 GHz i5-4570S moves to 3.0 GHz i5-4590S
- Current 3.1 GHz i5-4770S moves to 3.2 GHz i5-4790S
One exception is on the low-end 21.5-inch iMac, which currently uses a special i5-4570R chip enhanced with Intel's top-of-the-line Iris 5200 integrated graphics to allow that machine to forego a discrete graphics chip. We have yet to see confirmation of plans for Intel to launch a corresponding i5-4590R chip as part of the Haswell refresh.
The Mac mini remains a question mark for Apple, given that the line has not been updated since October 2012. Past history has seen chips from the 13-inch MacBook Pro making their way into the Mac mini a few months later, but that has not yet occurred despite the current Retina MacBook Pro having been introduced four months ago. Such a move could come at any time, and a placeholder at a Belgian retailer last month suggested that an updated Mac mini was due by the end of February, but such indicators are frequently unreliable.
Finally, while many early Mac Pro customers are still awaiting their orders and new orders are not shipping until April, there undoubtedly some customers looking ahead to the next-generation Mac Pro. These machines will likely use upcoming Haswell-E Xeon E5 chips, and few details beyond a release target of the second half of 2014 have surfaced so far.
So in summary, delays in Intel's Broadwell platform are causing uncertainties in the outlook for Apple's notebook lineup, with interim Haswell refresh chips trickling out over the remainder of 2014 to provide some possible upgrade paths for Apple. But the scattered schedule of chip upgrades leaves it unclear as to when each model line will have the appropriate chips available for Apple to release updated machines. Apple's desktop lineup is a bit more solid with a good set of speed-bumped chips for the iMac arriving in time for an update around mid-year if Apple so chooses, while the Mac mini will likely maintain tradition and launch with mobile chips at any time now unless Apple has more substantial changes in the store for the small desktop machine. Regardless, for most of Apple's lineup the 2014 chip updates will be fairly minor until Broadwell is ready to go late this year or early next year.