New Mac Mini Coming by End of February According to Belgian Retailer
While nearly all of Apple's Mac lines have transitioned to Intel's latest Haswell chip platform, one notable exception is the Mac mini, which has not been updated since October 2012 and is ripe for an update.
As noted in our forums, major Belgian retailer Computerstore.be has now posted placeholder listings for new Haswell Mac minis in Core i5 and Core i7 variations.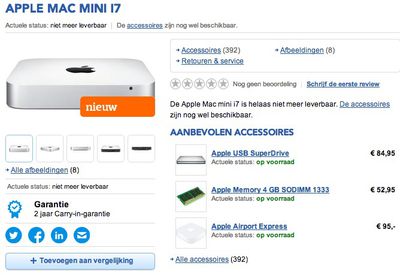 Retailer placeholders are typically unreliable indicators of new product launches, although they have on occasion been accurate. One forum poster did, however, contact the store and was told that the information "comes from apple or reliable sources". The store representative also noted that a release date is not yet available but that they expect a launch by the end of February based on availability of the placeholder listings.
While the listings include images of the current Mac mini, they are likely placeholders for the time being and it is unknown whether there will be a change to the machine's appearance or if it will be an entirely internal upgrade. The listings do, however, come with product descriptions that differ from the current models (translated via Google).
The Apple Mac mini features a sturdy and above all very compact aluminum housing. Despite its small size, the Apple Mac mini comes with powerful hardware. The Mac mini is equipped with the latest Intel Core i7 processor from Haswell series. This processor is obviously faster than its predecessor, but also uses the powerful Intel Iris graphics. The latest Apple operating system, OS X Mavericks, works very user friendly and communicates seamlessly with other Apple products. So for example you can just get iMessages on your Mac mini. In addition, OS X Mavericks a very secure operating system, you have (almost) not suffer from nasty viruses. The Apple Mac mini with the latest WiFi standard 802.11ac. This will make use of a high speed Gigabit LAN. You are here obviously compatible 802.11ac equipment needed. If you ever want to expand the memory of the Mac Mini, this is easily done by turning the black plate on the bottom and then add additional memory. The Mac Mini has many connections. He is equipped with HDMI, USB 3.0, FireWire and high-speed Thunderbolt connection.
Beyond Haswell, the description includes several other expected updates such as Iris integrated graphics and 802.11ac Wi-Fi, although it does not specify whether the new Mac mini would adopt the new Thunderbolt 2 standard seen on the Mac Pro and Retina MacBook Pro.
Update: Computerstore.be has removed the listings.