iOS 7.1 Beta 4 Tidbits: New Slide to Unlock/Power Off Animation, Dialer Updates
Earlier today, Apple released the fourth beta of iOS 7.1 to developers, which included both bug fixes and a few new changes to the operating system. While iOS 7.1 beta 3 introduced several visual changes, iOS 7.1 beta 4 focused more heavily on behind-the-scenes improvements. There were, however, a few tweaks to further streamline the look of iOS 7, which are detailed below.
Slide to Unlock/Power Off: Most notably, the Slide to Unlock bar at the bottom of the phone is now more prominent, with a brighter, slower animation. The same brighter animation can be seen in the Slide to Power off bar when turning off the phone.
Revamped Slide to Unlock/Slide to Power off animation (Courtesy of @Elias96)
Contacts in Dialer:
The option to add a contact when entering a phone number has been altered slightly and is now executed by tapping the + sign next to the phone number. Previously, there was a line that said "Add to Contacts."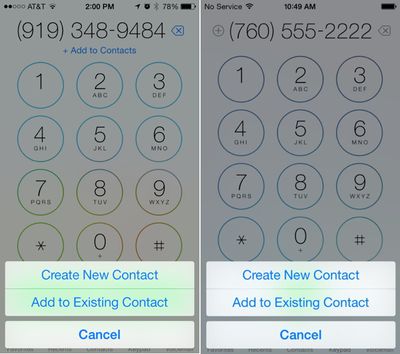 Old version on left, iOS 7.1 beta 4 on right. (Image courtesy of

iDownloadBlog

)


Messages Scrolling: When scrolling through the Messages app in beta 4, it seems there is slightly more "bounce." This is in line with previous changes to Control Center, which introduced a bounce animation.
Siri: In the U.K., there is a new Siri voice on the iPad.
To check out previous changes introduced in iOS 7.1, make sure to take a look at our previous tidbits post on iOS 7.1 beta 3, which detailed a number of visual changes to the operating system.
It is unclear when Apple plans to release iOS 7.1 to the general public, but a report from December suggested it could see a lengthy beta testing period with a March launch. It is likely that Apple will continue making subtle changes to look and feel of iOS 7 in coming betas, which could result in a refined and polished version of the operating system when it is finally made available to the public.