New Renderings of Apple's New Flagship San Francisco Store Reveal Massive 2-Story Sliding Glass Panels
Revised plans for Apple's proposed flagship retail store in San Francisco's Union Square include new renderings of the location, reports SocketSite. The prospective store is now pictured to feature two full-height sliding glass panels standing 44 feet tall and 23 feet wide, allowing the building to be opened up to the street. The store will also include regular glass doors that would act as a primary point of entry when the larger doors are closed.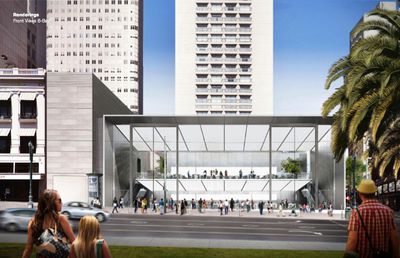 Apple's revised design for new San Francisco flagship store
Apple
originally
filed plans last May to move its
existing
Stockton Street flagship store three blocks north, giving the store a larger footprint and prime location in the Union Square shopping district. However, the plans quickly ran into
opposition
as critics panned multiple aspects of the proposal, such as the idea to remove a sculptural fountain created by late sculpture artist Ruth Asawa and the installation of a 80-foot-long windowless wall along a key pedestrian and transit corridor. Soon after, city officials made clear that
significant changes
would be needed for the project if it was to receive approval.
Apple then filed revised plans in August to address some of the proposal's biggest criticisms, stating that it would keep the fountain, add an eight-foot wide window along the Stockton Street frontage, and move to pull the proposed glass wall of the store back by four feet to add a greater sense of depth and more shadows for visual interest.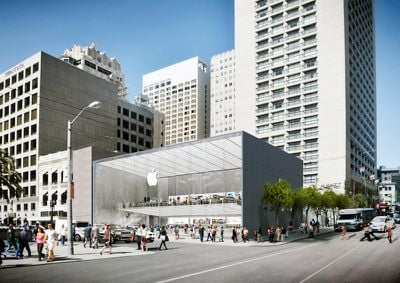 Apple's original design for new San Francisco flagship store
City officials were reportedly pleased by Apple's proposed changes, although the project must still pass through full review before it can be approved. A part of that review will take place on Wednesday, February 5, as the San Francisco Historic Preservation Commission will
meet to discuss
Apple's request for a permit to construct the store. Apple has not announced when it plans to open the new store, and any internal targets may yet be affected by San Francisco's review and permitting processes.
Thanks, Cody!