San Francisco Officials Suggest Significant Changes Needed for Apple's New Flagship Store Proposal
Last month, Apple
submitted plans
to relocate its flagship San Francisco retail store three blocks north, putting the new store directly on Union Square, the heart of the city's high-end shopping district.
Despite initial praise for the project from city officials, Apple's proposal rapidly
drew criticism
for a number of its features, including an 80-foot-long blank wall along Stockton Street and the apparent removal of a sculptural fountain currently located at the entrance stairway to a public plaza.
The
San Francisco Chronicle now reports
that the city's Planning Department has issued its
preliminary project assessment (PDF)
on Apple's proposal, indicating that it would like to see a number of changes to the project.
There's too much glass on Post Street and too much metal on Stockton. The plaza that would accompany it needs a friendlier entrance. Planners also want the project to include a circular bronze fountain by Ruth Asawa that is the centerpiece of the plaza now on the block.

Despite all this, the city's top planner said Thursday that he sees no reason Apple can't build a modernistic metal-and-glass box within the historic setting of the Union Square retail district.
The city's planners object to the uniform wall of glass along the store's main frontage on Post Street, suggesting that Apple should do more to break up the wall by including colors or textures or vertical design elements. The planners also suggest possibilities for improving the blank Stockton Street frontage, including adding windows or pulling back the storefront to allow for landscaping and perhaps public seating areas.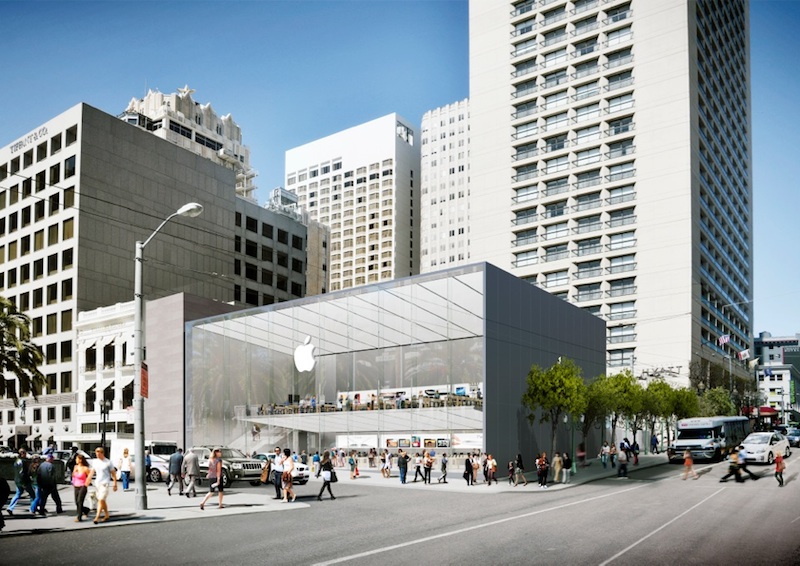 Regarding Apple's controversial proposed changes to the public plaza behind the store, planning officials have asked Apple find a way to widen the entrance stairway to help draw in visitors. Apple is also being asked to try incorporate the existing fountain sculpture by noted San Francisco artist Ruth Asawa into the new plaza design, and if it is not feasible, to assist with finding a new location for the fountain.
The
Chronicle
also spoke with San Francisco mayor Ed Lee about the fountain. Lee, who had been
unaware
of its proposed removal following his initial viewing of the project plans, suggests that an agreement with Apple to secure the fountain's fate may be near.
"I've had some very good conversations with Apple and the managers of the Hyatt," said Lee, who praised Apple's plans in May as "incredible" but later told The Chronicle he hadn't realized the new building would disrupt the Asawa fountain. "I think a decision will be made in a short period of time."
Apple has not disclosed a timeline for constructing the new store and relocating its operations from the existing store at 1 Stockton Street, and its timeline may depend on how long negotiations with city officials take to achieve a design satisfactory to all parties.