Solar-Powered Laptop with Dual-Sided Display Detailed in Apple Patent
Apple has been awarded a
patent
by the U.S. Patent and Trademark Office (via
AppleInsider
) detailing an "electronic device display module" for a laptop that would include the ability to act as a secondary rear display featuring touch controls. The patent also details a photovoltaic system located in the display unit which could power the device with solar energy.

The patent, which was originally filed in 2012, details a portable computer that would encompass both upper and lower housings, consisting of materials such as metal, ceramic, carbon fiber, and glass. The rear housing of the computer would feature a logo similar to Apple's current line of MacBooks, but would be made of a patterned ink layer instead of a plastic material.
The electrochromic glass that could be integrated into the rear display is also detailed, as the glass would receive signals from light sources with the ability make itself opaque or translucent depending on user input. In theory, this would allow the rear display to remain hidden from view when not in use, which would assist in preserving battery life and privacy.
The display may be controlled using timing and control circuitry on a display driver board. The driver board may be mounted within a clutch barrel that contains the hinges. The driver board may be mounted within the clutch barrel so that it lies perpendicular to the plane of the display or may be oriented at other orientations such as orientations that are within plus or minus 10.degree. or 20.degree. from perpendicular, orientations that are parallel to the plane of the display, or other orientations.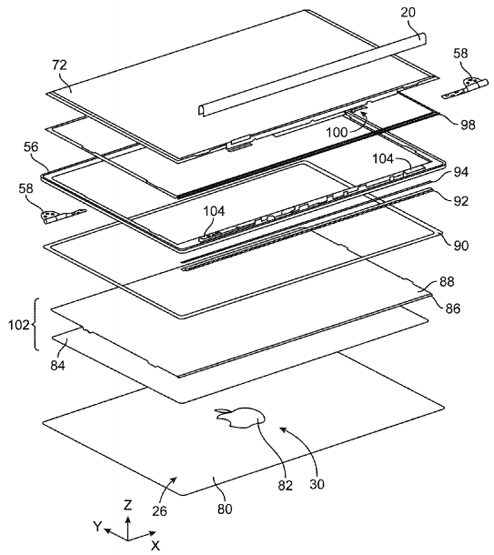 Furthermore, Apple also proposes that the computer include photovoltaic cells located under the rear panel, with the cells producing power when activated by an external light source. The cells could also have the option to store the power or use it immediately, and would receive energy from light when the display and electrochromic glass are in the translucent mode.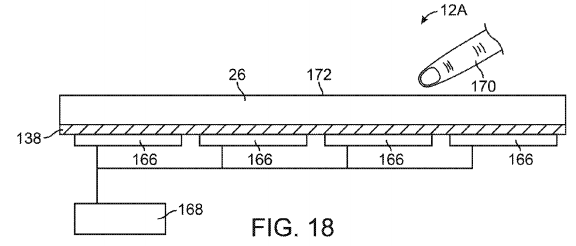 Lastly, the touch controls found on the rear display would allow the user to do a number of things, including the ability to input passcodes, control media playback, and unlock the magnetic latch of the computer by touching a certain region. The patent also states that the touch sensors may include capacitive, acoustic, optical, or pressure-sensitive properties to allow different methods of input, and could be located on a centralized rear structure.
It is unknown whether Apple plans to create such a product or not, but the company has researched similar technology before. A patent in August 2012
detailed
significantly enhanced iPad Smart Covers with secondary displays and solar cells, and a
patent
in 2008 showed the company's interest in producing solar LCD powered iPods, iPhones, and laptops.
Other
reports
on Apple's interest in solar-powered devices have also popped up on numerous occasion throughout the years, though it is unclear as to whether Apple is ready to make a serious attempt at integrating the technology into its products or is still focused solely on researching methods.