Apple Researching iPad Smart Covers with Secondary Displays, Keyboards, Solar Cells
Engadget points to a newly-filed patent application from Apple showing ideas for a significantly enhanced iPad Smart Cover that could contain such features as a secondary display, a keyboard, and power collectors in the form of solar cells or RF energy antennas.
An accessory device that is arranged to communicate with a host device by way of a communication channel is claimed. The host device includes a host device display arranged to present visual information. The accessory device includes the following: a flexible flap having a size and shape in accordance with the host device display, where at least a portion of the flexible flap is covered by a flap display configured to present visual information; and a connecting portion, the connecting portion arranged to provide at least a communication channel arranged to convey information between the host device and the accessory device where at least some of the information is presented visually on the flap display.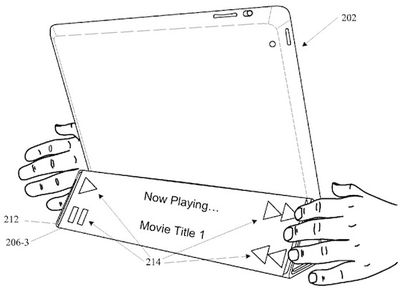 In one example, Apple shows how secondary displays integrated into the Smart Cover could offer a mini home screen alongside the primary screen or be used to display information to others while folded into its stand configuration. The displays could draw power and transmit data from a connector alongside the Smart Cover hinge or rely on embedded solar cells or RF energy antennas for power needs.


Apple also proposes to use the Smart Cover's surface as a keyboard with a touch section for customizable virtual keys. The keyboard is in some ways similar to the cover keyboard Microsoft has demonstrated for its upcoming Surface tablet.


Finally, Apple shows how embedded e-paper displays on the exterior of the Smart Cover could offer information such as notifications and reminders without requiring the user to open the cover and turn on the device. Apple could also integrate a section that would allow users to quickly scribble their own notes on the cover.


The patent application was filed in August 2011 and is credited to Apple design engineer Fletcher Rothkopf, who now serves as a manager in the company's product design division.