Solar LCD Powered iPods, iPhones and Laptops?
A recently published patent application discovered by MacRumors reveals that Apple is investigating the use of solar power in versions of their mobile devices -- both handheld devices and portable computers. Integrating solar power into a mobile device holds the enormous potential of extending battery life significantly. However, successfully integrating solar panels into these small devices is not without its challenges.
The major issues described are the limited area available to solar panels, durability, and the "wasting" of space on a portable device. It is due to these problems that solar power has not found its way into mobile devices, not just from Apple, but from all manufacturers.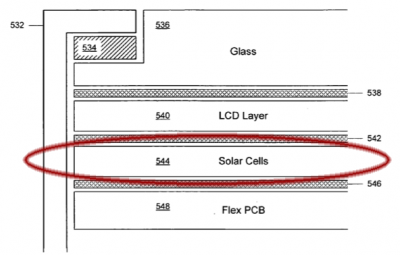 The most interesting technique described by Apple, however, is the integration of the solar panels behind the actual LCD screen of a portable device. The solar panel would absorb ambient light that passes through the LCD screen of the device. This could eliminate any additional footprint typically required by the solar panels. If successfully implemented, Apple's iPhone, iPod and laptops, could require no outward changes in design to add solar power.
Apple's not the only one exploring this technology as an old (2001) Motorola patent describes the same technique. While several limitations to the technique were described at that time, the issues may have been better addressed in recent years.