Tim Cook Discusses Apple's Culture of Secrecy, Sapphire, and More in ABC News Interview
In honor of today's thirtieth anniversary of the introduction of the Macintosh, Apple CEO Tim Cook and executives Craig Federighi and Bud Tribble recently sat down for an interview with ABC News. ABC's David Muir was a guest on Good Morning America this morning, where he introduced a short preview of the interview, which airs in full tonight.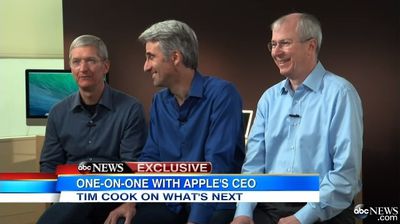 In the clip, Muir talked candidly to the trio of executives about Apple's culture of secrecy, the company's plans for its Arizona sapphire manufacturing plant and the iWatch. Cook was forthcoming in the interview about his work habits and Apple's rumored black curtains, but as usual he adeptly deflected questions about Apple's future product roadmap.
The full interview will air tonight at 6:30 PM on World News with Diane Sawyer.