Nintendo Finally Considers Smartphone Move After Third Straight Annual Loss
Nintendo president Satoru Iwata stated in a press conference that the company is now considering a "new business structure" that involves smart devices, reports Bloomberg.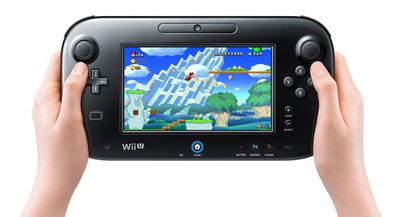 Wii U GamePad controller
The news comes as Nintendo reported a third consecutive annual loss, slashing the global sales forecast for its flagship Wii U game console from 9 million units to 2.8 million consoles. The company also scaled back its expectations for its 3DS portable game console from 18 million units to 13.5 million, with Iwata also claiming that there are no short term plans to reshuffle management.
"We are thinking about a new business structure," Iwata said at a press conference yesterday in Osaka, Japan. "Given the expansion of smart devices, we are naturally studying how smart devices can be used to grow the game-player business. It's not as simple as enabling Mario to move on a smartphone."
Nintendo has faced fierce competition from mobile platforms in recent years, with App Annie recently finding that consumer spending on games for iOS and Android rose to 4x that of dedicated gaming handhelds. In 2010, Iwata reportedly told his senior executives to regard Apple and its devices as "the enemy of the future", and also stated to CVG last August that he would "never think about providing [Nintendo's] precious resources for other platforms at all."
Investors have also called for Nintendo to develop titles for iOS and other platforms in August 2011 after lower-than-expected demand for the 3DS. Alternatively, some also suggested that Nintendo should "buy its way into" the smartphone platforms by acquiring companies and technology or developing their own. Iwata's newest comments reveal that Nintendo is now seriously considering supporting smartphones in some manner.