Apple Investigating iBeacon-Assisted Mobile Payment Methods
Apple's iBeacon technology based on the Bluetooth LE standard is being installed in Apple Stores and other retail outlets to assist customers and send them promotions while shopping, but as noted by Patently Apple, a newly published patent application suggests this technology could also be used to send secure mobile payments while making purchases.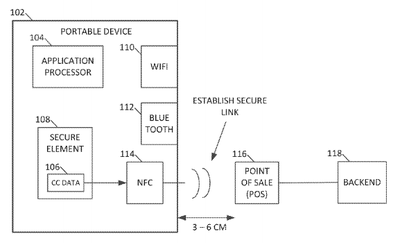 Patent application number 20140019367, filed in September 2012 and published today, describes a method that would send payment data through various wireless interfaces without compromising the user's data. The method uses two links -- one connection to a point-of-sale device to establish the initial connection and a second, secure connection that sends the payment information. This payment information is then processed by a backend server, which uses a shared secret to verify that the connection was secure before it authorizes the payment.
In one or more embodiments, a method of performing a commercial transaction is provided. The method includes establishing a first secure link over a first air interface by a purchasing device, the first secure link between the purchasing device and a point of sale device, identifying a second air interface different from the first air interface, establishing a second secure link over a second air interface, the second secure link between the purchasing device and a backend server, and conducting, using the second air interface, a secure commercial transaction between the purchasing device and the backend server using payment data secured by a shared secret known to a secure element in the purchasing device and to the backend server.
The payment method described in the patent may use NFC as well as Bluetooth and Wi-Fi to connect the mobile device to the point-of-sale terminal. Though iBeacon is not directly named in the patent, it is easy to see how the technology could be used as the conduit for the secure Bluetooth connection. Apple even notes in the patent that NFC "is less desirable for longer transactions," while Wi-Fi or Bluetooth has "more desirable characteristics for maintaining the link over time than NFC."
The use of Apple's iBeacon technology, rolled out alongside iOS 7, is expected to increase over the coming year as other retailers such as Macy's have begun piloting the Bluetooth LE technology. Most recently, the Consumer Electronics Association used iBeacons for a scavenger hunt at CES 2014, while Major League Baseball will be bringing the technology to stadiums.