Apple's Lunar New Year sale kicked off today in several Asian countries, with discounts available on a wide range of Apple products.
Unlike the Black Friday sale in held in the United States and other countries in November, today's sale includes price cuts on both the iPhone 4s/5c/5s and the Retina iPad mini. Apple does not typically offer discounts on its iPhones, making this year's Lunar New Year sale somewhat unusual.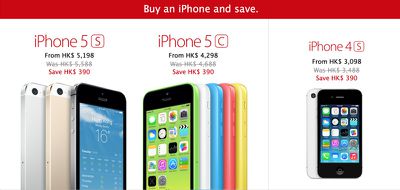 Lunar New Year discounts are cash-based rather than gift-card based like the Black Friday sales in the United States. For that reason, the deals are slightly more modest, similar to the cash deals that were available in Europe.
Apple is offering a discount of HK$ 390 off of full-priced iPhones, which equates to approximately $50 off. The iPad Air is available at a discount of HK$ 310 ($40) and the Retina iPad mini is HK$ 230 off ($30). There are also slight discounts available for the iPad mini and the iPad 2, of HK$ 150 ($19) and HK$ 230 ($30).
Macs are also on sale, with a flat discount of HK$ 770 ($99) available on all models. There are minor discounts on the iPod nano, the iPod touch, the Apple TV, and several other Apple accessories including headphones, iPhone/iPad cases, and more.
The Lunar New Year sale is one day only in several Asian countries including China, Hong Kong, Malaysia, Singapore, South Korea, Taiwan, and Thailand.