Imagination Technologies Announces PowerVR Series6XT Successor to Apple's A7 Chip Graphics
Imagination Technologies yesterday announced a new Series6XT generation of its PowerVR graphics architecture, representing a successor to the Series6 graphics used in Apple's A7 chip for the iPhone 5s, iPad Air, and Retina iPad mini.
Series6XT cores achieve up to a 50% performance increase on the latest industry standard benchmarks compared to equivalent configurations of previous generation cores. And with a significant increase in raw GFLOPS, Series6XT delivers the industry's best performance in both GFLOPS/mm2 and GFLOPS/mW.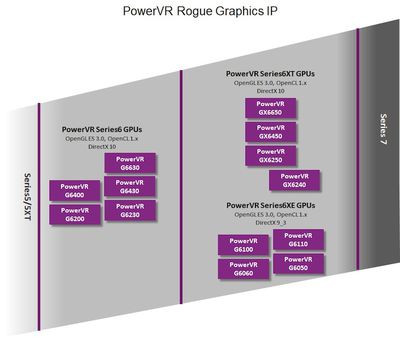 Apple currently uses Imagination's quad-core G6430 graphics in the A7, and the new Series6XT architecture brings a GX6450 model as a direct successor with potential for inclusion in future Apple A-series chips. But as noted by AnandTech, typical lead times on moving from licensing announcement to consumer availability suggest that these new graphics options may not appear in shipping chips until the latter half of 2015.
Series6XT is designed to be a moderate feature upgrade and power/performance optimization pass for Series6, integrating various innovations over the past couple of years to keep Imagination's designs performance and feature competitive. Series6XT comes 2 years after Series6 licensing was announced at CES 2012, and roughly half a year after the first SoCs implementing Series6 GPUs were released to consumers.
Apple has used versions of PowerVR graphics throughout its history of iOS device chip development, leading all the way back to the original iPhone in 2007. In line with Apple's preference for Imagination's graphics offerings, Apple has been a leading investor in the graphics company for some time, making several purchases that pushed its ownership stake in Imagination to nearly 10% by mid-2009.