First Mac Pro Review Units Out in the Wild
With the new Mac Pro beginning online orders today, review units have begun to arrive at select publications. The Verge is one of the first to show off their unit, posting a short piece with some photos and first impressions.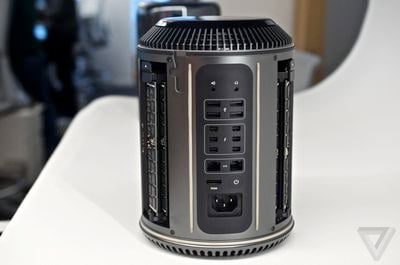 It's astonishingly reflective — I can see the screen clearly, and anyone who walks by is immediately recognizable — and it picks up fingerprints really easily. But it's beautiful, understated, and looks great on a desk next to the 4K Sharp monitor we've paired it with. It's particularly good-looking with its case off, exposing the Mac Pro's machinery, but the case is required to dissipate heat. You can't even use the Mac Pro with it off.

All the device's ports are on the back, bordered by a light that turns on and pulses when you spin the computer toward you. When you first turn it on, the fan kicks in, smelling a little like a new car at first. But we've been using it for a few minutes and it's quiet and cool, with little indication that it's even on in the first place. It's so unassuming and unadorned that you almost overlook it — that's a huge improvement from the big, boxy previous models.
The site promises benchmarks and further testing soon.
Orders for the new Mac Pro now have an
estimated shipping time of February
, after initially showing estimates of
"by December 30"
.
Update: An unboxing video has been posted by FCP.co, while Engadget and CNET have also posted brief hands-on looks at the new Mac Pro.