Apple's Redesigned Mac Pro Now Available for Online Orders
In line with yesterday's announcement, Apple's redesigned Mac Pro is now available for order through the company's online stores. The Mac Pro currently ships by December 30, though upgraded versions list a non-specific "January" shipping estimate.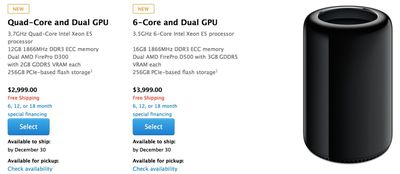 The new Mac Pro is available in two stock configurations, starting with a $2999 model equipped with a 3.7 GHz quad-core Intel Xeon E5 processor, 12 GB of RAM, dual AMD FirePro D300 graphics chips, and 256 GB of flash storage. A higher-level $3999 model bumps the specs to a 3.5 GHz 6-core Intel Xeon E5 processor, 16 GB of RAM, and dual AMD FirePro D500 graphics. Additional build-to-order options are available for up to a 12-core processor, 64 GB of RAM, dual AMD FirePro D700 graphics, and 1 TB of flash storage.
Aside from the two stock models, build-to-order options can be configured individually, with pricing compared to the base $2999 Mac Pro as follows:
CPU (Stock: 3.7GHz quad-core Intel Xeon E5)
- 3.5GHz 6-Core: +$500
- 3.0GHz 8-core: +$2000
- 2.7GHz 12-core: +$3500
Graphics (Stock: Dual AMD FirePro D300 with 2GB GDDR5 each)
- Dual AMD FirePro D500 with 3 GB GDDR5 each: +$400
- Dual AMD FirePro D700 with 6 GB GDDR5 each: +$1000
RAM (Stock: 12GB 1866MHz DDR3 ECC - 3x4GB)
- 16GB (4x4GB): +$100
- 32GB (4x8GB): +$500
- 64GB (4x16GB): +$1300
Flash Storage (Stock: 256GB PCIe-based)
- 512GB: +$300
- 1TB: +$800
The Mac Pro also includes options to add on both Apple's 27-inch Thunderbolt Display and Sharp's 32-inch 4K Display that Apple temporarily began offering in Europe in early December. The Sharp display is available for $3595. Mac Pro buyers can also choose to add on a newly released matching black Thunderbolt cable, available in 0.5 and 2 meter lengths for $29 or $39, respectively.
A fully loaded 12-core Mac Pro with 64GB of RAM, dual AMD FirePro D700 GPUs and 1TB of PCI-e based flash storage retails for $9599 in the United States.