New 12-Core Mac Pro Once Again Shows Up in Benchmarks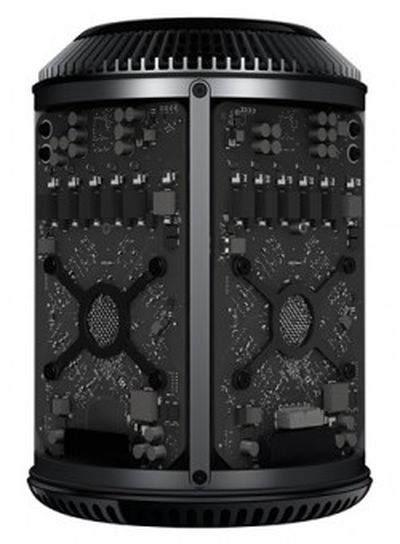 Back in June, just days after Apple teased the new Mac Pro at its Worldwide Developers Conference, a Geekbench result appeared for a version of the machine using Intel's 12-core Xeon E5-2697 v2 Ivy Bridge-E processor running at 2.7 GHz. Entries for 8-core and 6-core models followed in September and November respectively, but with those benchmarks coming under Geekbench 3 and the original 12-core model having been tested under Geekbench 2, the results were not directly comparable.
Still, John Poole of Primate Labs, the company behind Geekbench, outlined the likely processor performance options under Geekbench 3 for the new Mac Pro based on the tested Mac Pro machines where available and filling in the gaps with data from Windows machines running the same processors destined for the Mac Pro.
Now, with the Mac Pro launch likely very near, new sets of benchmarks from the 12-core Mac Pro running Geekbench 3 have surfaced, offering a better look at the performance of the high-end custom configuration. MacRumors and Poole both believe the results to be legitimate.
Three sets of Geekbench results have been posted, two run in 32-bit mode and a third in 64-bit mode. Averages for the two 32-bit runs (1, 2) yield scores of 2909 for single-core testing and 29721 for multi-core testing, fairly close to Poole's predictions based on results from Windows machines running the same chip.
As predicted, the single-core score for the high-end Mac Pro is actually lower than seen with the other new Mac Pro models due to the lower maximum clock speed of the 12-core chip, but multi-core testing obviously shows a significant boost in performance compared to the Mac Pro model carrying the 8-core processor. The new 12-core Mac Pro unsurprisingly also compares favorably to the 12-core Mid 2012 Mac Pro and high-end models of the current iMac and Retina MacBook Pro.

Comparison of high-end models using 32-bit multi-core Geekbench 3 scores
The
third Geekbench result
for this machine uses the 64-bit version of the testing suite, which yields scores roughly 10-11% higher than their 32-bit counterparts for both single-core and multi-core testing.


As with previous Mac Pro benchmarks believed to be legitimate, this latest 12-core Mac Pro is running a custom build of OS X Mavericks, the same 13A4023 build seen on the 6-core model last month.
Apple has announced that it will be launching the new Mac Pro sometime this month, but has yet to offer a more specific launch date or publicly outline full pricing details beyond the $2999/$3999 stock configurations. According to a price quote provided to one business customer, maxing out the new Mac Pro with the 12-core CPU, 64 GB of RAM, 1 TB of internal flash storage, and high-end dual AMD FirePro D700 graphics chips could bring pricing to roughly $10,000.