Mac Pro Launch Nears as Apple Business Staff Begin Offering Price Quotes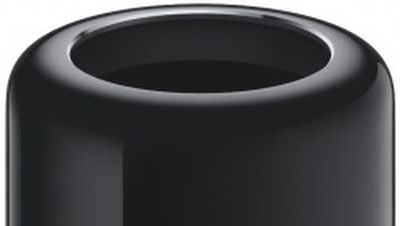 With potential customers of the new Mac Pro eagerly awaiting any sign of a more concrete launch date than the "December" timeframe announced by Apple at its October media event, increased activity from Apple's business team members suggests that a launch may indeed be very near.
While Apple has publicly remained silent on pricing for various Mac Pro configurations beyond the $2999/$3999 stock models in shown in its U.S. online store, members of the company's business sales team have on occasion been offering pricing quotes on build-to-order configurations upon request.
One Canadian forum member at FCP.co posted late last month that he had been quoted $9700 for a maxed-out Mac Pro with 1 TB flash storage, 64 GB of RAM, dual AMD FirePro D700 graphics, and a 12-core processor. Given Apple's current currency conversions, U.S. pricing should fall in the range of $9400-$9500, although that quote almost certainly incorporates a small discount made available to certain business customers. A somewhat lower-specced model with 512 GB of flash storage and an 8-core processor was quoted at $7700 Canadian.
But while Apple business team members have had some access to the full price list for the new Mac Pro for at least several weeks, team members appear to have become more proactive over the past several days, contacting business customers who had previously expressed interest in the new Mac Pro to offer them price quotes ahead of the official launch.
One MacRumors forum member yesterday posted a price quote he received from an Apple business sales representative for a build-to-order Mac Pro configuration, a higher-end stock model upgraded with additional RAM and flash storage. Pricing for that configuration came to $4464 in the quote, but retail pricing would be slightly higher.


A second MacRumors reader reported today that he was contacted by a member of Apple's business sales team requesting desired configuration options for the purposes of generating a price quote. The Apple representative indicated that a price quote could be available by Monday, December 16, but it is unknown if that corresponds to any public release of additional information for that date.
Aside from the recent activity from Apple's business sales team regarding the new Mac Pro, the rapidly approaching holidays also led to speculation that a Mac Pro launch could come sooner rather than later. Next week is the last full week before Christmas, and with many Apple employees having time off around the holidays, the company would likely prefer to avoid conflicts with the holidays as much as possible.
An alternative theory suggests, however, that Apple may still be working to secure the component volumes it needs to produce a launch batch of the machines. As a result, the company could have little alternative but to launch the new Mac Pro in small volumes at the very end of the month in order to technically meet its stated launch timeframe while being able to push the bulk of its initial deliveries into early 2014.