Apple's New 8-Core Mac Pro Shows Up in Benchmarks
Back in June soon after Apple offered a sneak peek at the new Mac Pro, a Geekbench result from the new machine appeared revealing some performance information about the machine under its internal product code name of AAPLJ90,1. That machine was running a 12-core Intel Xeon E5-2697 v2 at 2.7 GHz, representing what would be a high-end model of the machine.
Today, a new Geekbench result that appears to be a second legitimate Mac Pro has appeared, this time running a lower-end 8-core Intel Xeon E5-1680 v2 chip at 3.0 GHz. As with the previous Mac Pro seen on Geekbench, this new machine is running a custom internal build of OS X Mavericks, in this case Build 13A3010.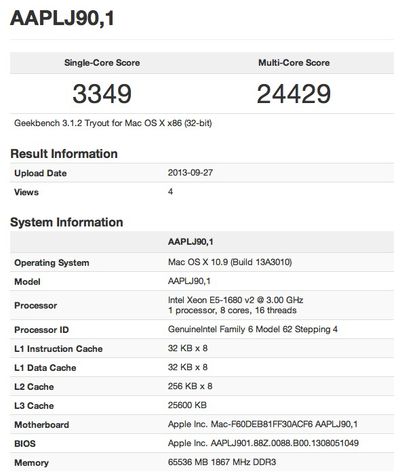 Exact Geekbench scores are not comparable between the two Mac Pro models, as the original one was benchmarked using Geekbench 2 and the new one was benchmarked under Geekbench 3, which uses a new baseline measure. The latest machine can, however, be compared to other Mac models tested using Geekbench 3.


On the 32-bit Multi-Core Geekbench 3 scoring, this new 8-core Mac Pro registers a score of 24429, on par with scores achieved by the higehst-end 2010 and 2012 Mac Pro models running dual 6-core processors for a total of 12 cores. The new Mac Pro also handily beats the Geekbench performance of earlier 8-core models.
While Geekbench can assess raw CPU and memory performance, Apple's new Mac Pro will also bring massive new graphics capabilities that can be leveraged for computational purposes. The new Mac Pro will come with dual AMD FirePro GPUs standard, giving users additional computational horsepower while being able to simultaneously drive up to three 4K displays.
Apple's new Mac Pro is scheduled for release this fall, but the company has yet to announced detailed specifications, pricing, or an exact release date.