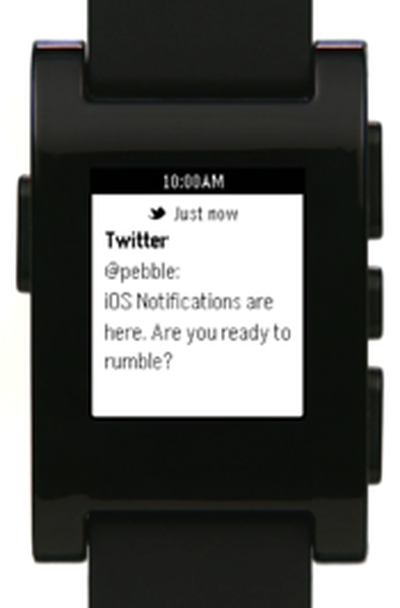 Pebble today released an update for its smart watch that enables various features, including a "Do Not Disturb" function that blocks notifications for a specified period of time, and the ability to create multiple alarms.
Also included is improved control over notifications which allow the user to specify which types of messages are displayed, and enhanced iOS connectivity performance along with various bug fixes.
What's New
Do Not Disturb. Block notifications for a set period of time (from Pebble: Settings » Notifications » Do Not Disturb).

Alarms app update. Create multiple Alarms, toggle Alarms on/off, and edit existing Alarms.
New "Snooze Alarm." Customizable via the Pebble Alarms app.

Improved Notification Control. Specify what notifications are displayed (Notifications On, Phone Calls Only, or Notifications Off). Notification settings are now accessible more quickly through a dedicated menu (Settings » Notifications).

Improved iOS performance. Notifications are now sent more quickly from your iOS device to Pebble. After exiting Airplane Mode, Pebble will now search for connectable iOS devices immediately, instead of waiting one minute.
The device was also updated earlier this month with full support for iOS 7 notifications along with the addition of a developer SDK and APIs for Javascript, the accelerometer, data logging and persistent storage.
Originally, the Pebble raised more than $10 million on Kickstarter, potentially proving the viability of the smart watch as a product. Apple is also said to be working on its own iWatch and recently invested hundreds of millions of dollars in a new Arizona factory to make sapphire glass, perhaps for such a product.
The Pebble smart watch is available for $150 from getpebble.com and at Best Buy and AT&T retail stores.