BearExtender today announced the launch of BearExtender Turbo, a new USB-based solution for adding faster 802.11ac Wi-Fi connectivity to older Macs. Regularly priced at $80 but available through Amazon for $70, BearExtender Turbo can boost Wi-Fi speeds by up to 2-3x for Macs supporting USB 3.0 but not 802.11ac natively.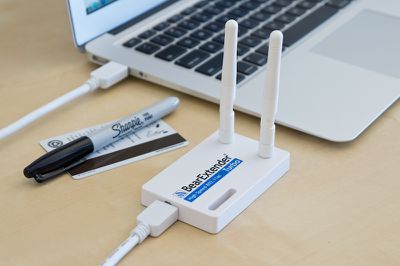 Using AJA System Test on Mac OS X 10.9 Mavericks, a 2GB file was transferred between a Mid-2012 802.11n MacBook Air and a 2013 Apple Time Capsule at a rate of 10.66 Megabytes per second (MB/s not megabits). The same test with BearExtender Turbo connected to the MacBook Air's USB 3.0 port had a rate of 23.84 MB/s, more than twice the Macbook Air's internal Wi-Fi card.
While speed bottlenecks for most users will continue to be their actual ISP connections when connecting to the Internet, 802.11ac is particularly useful for transferring large amounts of data between machines within a network.
BearExtender Turbo supports maximum throughput of 867 Mbps and includes dual-band connectivity at 2.4 GHz and 5 GHz for maximum speed and compatibility. The device's two antennas can also be removed for portability.