iPod and Nest Creator Tony Fadell May Have Purchased (RED) EarPods and Mac Pro for $1.4 Million [Updated]
Earlier this year, Apple design chief Jony Ive and designer Marc Newson created a number of one-of-a-kind items to be sold at a Sotheby's charity auction to benefit Product (RED). Two items in particular were Apple related, a pair of solid gold Apple EarPods and a new Mac Pro with a special red finish.
According to a pair of tweets by photographer Kevin Abosch, Tony Fadell -- one of the creators of the iPod and the founder of Nest, the company behind the Nest Thermostat and Protect smoke detector -- may have purchased both the Mac Pro and the EarPods at the auction.
The Mac Pro sold for $977,000 while the solid gold EarPods sold for $461,000. Other items sold at the auction included a Steinway & Sons grand piano that sold for $1,925,000 and a magnum of Dom Perignon 1966 with a custom red label that sold for $93,750.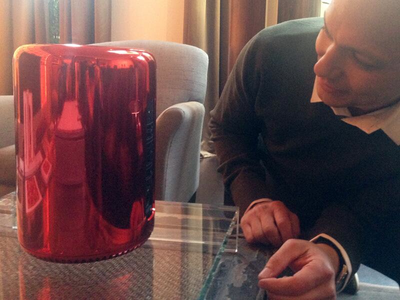 The red Mac Pro is one of the few out in the wild at the moment, as Apple has not yet started selling the device to the public. First shipments of the new Mac are expected later this month.
We have reached out to both Kevin Abosch and Tony Fadell for confirmation of the purchase and will update if we hear back.
Image via Kevin Abosch
Update: Fadell has issued a Tweet clarifying that he did not purchase either the Mac Pro or the EarPods.

Update 2
: Abosch has now tweeted a picture of himself reflected in what appears to be the surface of the red Mac Pro, perhaps supporting the theory that he is the owner of the machine.