Apple Tops Dell as Most Sought After Desktop Computers
According to new a survey done by market research firm Parks Associates (via CNET), Apple desktops have become the most sought after desktop computers this holiday season, beating out longtime holiday desktop leader Dell and other competitors such as HP and Acer. This marks the first time that Apple products have taken the top spot in the history of the survey, as the company was ranked 3rd in the category in 2011 and 2nd in 2012. The Apple TV also remained at the top spot for the most sought after streaming media device, topping the Roku TV.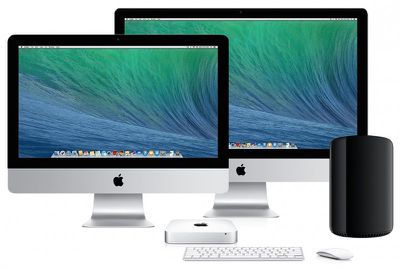 "Apple topped the list of intended brands for desktop purchases for the first time this year," said John Barrett, director, Consumer Analytics, Parks Associates. "In 2011 and 2012, Dell was the top desktop brand, but Apple has displaced it, making Apple now the most popular brand across even more key CE categories."
Apple quietly updated the iMac this past September with Intel's Haswell processors and faster PCI-Express based flash storage, which followed a major design revision to the desktop in 2012 that brought a thinner and lighter design. The company also currently sells its lower-priced Mac Mini and is getting ready to launch the high-end Mac Pro sometime in December, with a German retailer stating a possible availability date of Monday, December 16.