Search and Social: How Apple Might Utilize Its $200 Million Topsy Purchase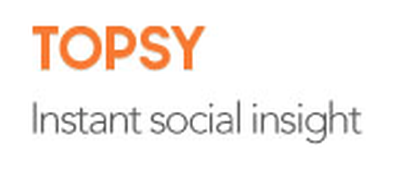 Following Apple's $200 million purchase of social analytics firm Topsy earlier this week, a wide variety of analysts and pundits have been considering what Apple might do with the company.
More than anything, Topsy is a search and analytics company, holding a number of search-related patents that could be implemented directly into the App or iTunes Stores to improve searches and discovery. One patent helps rank search results based on reputation and influence, which could be used to help higher quality apps rise to the top of App Store search results, for example.
Another patent details the return of search results to include popular items related to a specific query on a social media site. While not directly related, a similar technology could be incorporated into App Store search. For example, a user searching for Major League Baseball apps could be linked to other trending sports apps for the NFL or NBA.
Twitter considered buying Topsy as well because, according to AllThingsD, "Topsy's search technology and tools were even more effective than Twitter's own in-house search tools" but Twitter ultimately decided to pass on the purchase.
Apple has purchased companies in the past to boost its search results on the App Store, most notably Chomp, acquired by the company last year.
Apple has also been focusing on increasing its advertising revenue in recent years, first with iAd's in-app advertising, and more recently with iTunes Radio. Another Topsy patent relates to the display of certain advertisements to users based on an "influence score" that helps determine which advertisements are shown to a particular user.
As for what Apple will do with Topsy, TechCrunch's Matthew Panzarino is thinking along these same lines.
If I had to hazard a guess, this might be related to Apple building out the relevancy engine of its App and iTunes Stores. Adding social signals to the search algorithms of its stores could help to improve the relevance of search results and help Apple surface apps that are hotter and more interesting to users. Tracking app trends across social networks would allow them to fine tune categories and collections of apps, and surface apps that are gaining steam more quickly.

Pulling the thread out a bit further, it's possible that Apple could even use the data from your Twitter feeds to recommend apps on a more personal basis, rather than 'generically' to everyone. Apple has done little of this kind of personalized recommendation work to this point, but there's always a first time for everything.
The Wall Street Journal concurs, saying that "Topsy's insights could be useful in several Apple services, including the iTunes media store, Siri voice assistant or iAd advertising platform."
Another pundit, Azeem Azhar, argued on LinkedIn that Topsy's search platform could be part of the foundation for an Apple move against Google in search. The company already built a mapping app, displacing Google Maps in one of the iPhone's most fundamental features -- and an investment in search could be a logical place to spend some of Apple's enormous cash pile.
Wouldn't it be smart for Apple to deploy Topsy's search infrastructure as the search layer for iOS? Working to index both the social Web, but also the best bits of the Web that power Siri and Apple Maps, reduce the reliance on Google and reduce the flow of advertising dollars to the big G.

[...]

These are additional signals that could make the experience of search on iOS really different to the experience on Google. A search which encapsulates data on the web, databases of businesses, real, fresh social signals and purchase preference data from 900m consumers. All accessible from my iOS device, connected back to my Apple ID (and the credit card attached to it).
Topsy has full access to the Twitter 'firehose', meaning its technology can be used to deal with enormous amounts of data and its search engine technology is designed specifically for that. It's possible that Topsy's search engine could be used by Apple for more than just search, however. The company could combine iCloud, App Store purchase data, reviews, social network activity and more to get a better idea of their customer's activity for both advertising and search purposes.
While the purchase of Topsy is notable, the $200 million acquisition accounts for some 1/750th of Apple's current $150 billion in cash and will likely be the one of many acquisitions that Apple makes during fiscal 2014.
Last year, in fiscal 2013, Apple made a total of 15 acquisitions of varying sizes over the course of the year. In its public financial calls with analysts, Apple executives have repeatedly said that a number of new hardware, software and services products are in its pipeline for release in calendar 2014 and beyond.