Apple Adds 'Chomp' Styled App Store Search Results and More in iOS 6
Apple has quietly made some changes to iOS 6's App Store app formatting tonight and introduced a new search results format that seem clearly inspired by Chomp.
Chomp was a three-year old search and app discovery startup that was acquired by Apple earlier this year. The reason for the acquisition was reportedly to improve the App Store search and app discovery. It appears the first of those efforts are being deployed in iOS 6.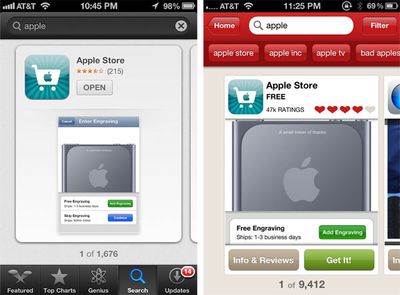 iOS 6 search results on left, Chomp app shown on right
On the iPhone, the new search results show a single tile result that can be swiped to move to each new result. Chomp's iOS app used a similar tile system in their search results.
In a thread in our forums, some users are already unhappy with the shift as it is slower to browse through many results.
Meanwhile, 9to5Mac notes several other changes in App Store functionality such as Genius support, Purchased section and Podcast search:
Also adding to the iOS 6 App Store updates, Apple has enabled the Genius recommendation section this evening, providing users with apps that may be in their interest to download. Furthermore, the purchased section has also joined the party, displaying all the apps a user has downloaded to their account, making it easy to retrieve favorite apps. Last but certainly not least, the iTunes Store has been updated with the ability to once again search for podcasts.
The iPad version of iOS 6 also shows the new tile-based results, but is able to show four results at a time. (screenshot).