Apple Beefing Up iAd Team Ahead of iTunes Radio Launch
Apple has been working to expand its iAd team over the past month, posting job listings for dozens of positions just as the company prepares to launch its iTunes Radio streaming music service, notes Ad Age. Apple's iAd team is handling advertising for the new service and has reportedly already signed up a number of high-profile brands to advertise on the service from its launch.
Apple had posted five iAd-related jobs to its own job board and another 35 to LinkedIn just in the month of August as of Friday. The openings are for a variety of jobs including account coordinators, ad design managers, project managers and engineers who will create new rich media ads for iAd.

In addition, Apple appears to be hiring ad execs with creative experience to help brands and agencies create better ads for its expanding iAd advertising network.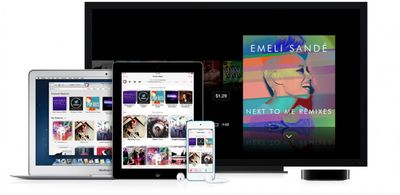 The report specifically highlights a creative design manager position intended to bridge account management and user experience functions, and while it says that the mid-August job posting was taken down last week, it appears to have been reposted by Apple last Friday.
As a head of the design and creative technology team, the Creative Manager supervises Designers and Creative Technologist and participates in the user experience and design execution of advertising campaigns on the iAd Network. [...]

Working with cross functional teams of engineers and producers, you will be working with our agency partners, defining the best experiences in advertising for the iAd Network while pushing the limits of creative and technical platform. Your ability to be creative and resourceful in problem solving while working effectively with a range of technical backgrounds is extremely important in this position.
According to previous reports, iTunes Radio listeners will be served an audio ad roughly every 15 minutes, with a video ad coming once per hour at times when the user is likely to be looking at his or her device. Subscribers to Apple's $25/year iTunes Match service will be able to listen to iTunes Radio without ads. iTunes Radio will be available only in the United States at its launch alongside iOS 7 later this month, with expansion to other countries coming over time.