Google Launches Newsstand App for Android, Promises iOS App in 2014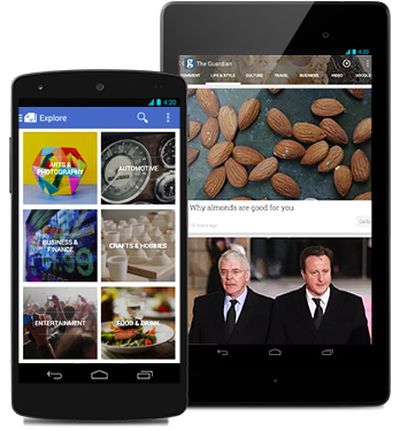 Google today launched a Newsstand app for Android, which combines its existing Flipboard-style Currents app, its Google Play magazine app, and a new newspaper subscription service to offer a variety of paid and free publications in one spot.
The new Google Newsstand app shares a name with Apple's own Newsstand and it also mimics the functionality of the built-in app that Apple first debuted in 2011. As with Apple's Newsstand, Google's Newsstand aggregates content in one convenient location, combining all of a user's subscriptions for magazines and newspapers.
Google does, however, go one step further, combining content from an array of sources into a single newsfeed, and the company has also partnered with multiple publications to offer subscriptions directly within its app. Google Newsstand shares several similarities with Apple Newsstand, but it is arguably more useful with its in-app subscriptions and its Flipboard-style feed.
Discover more of the news and magazines you care about on your Android tablet or phone. Enjoy breaking news and in-depth articles featuring audio, video, and more. From sports, business, cooking, entertainment, fashion and more - now get the best free and paid news plus vibrant full HD magazines, all in one place.
While Google's new Newsstand app is currently limited to Android devices, the company told TechCrunch that it plans to update its existing Currents app for iOS to a Newsstand app "early next year," where it will presumably compete with Apple's own Newsstand app.
In the past, Apple has not taken kindly to companies who adopt similar product names, famously filing a trademark lawsuit against Amazon over the use of the word "Appstore." Both Amazon and Microsoft argued that "app store" was a generic term, and the case was eventually thrown out.