Renderings Highlight Interior of Apple's Upcoming 'Spaceship' Campus
Last month, the City of Cupertino gave what amounted to the final approvals needed for Apple to begin work on its massive new "Apple Campus 2" on the site of a former HP campus in the city. As part of the application process, Apple has shared a few renderings of the project over the last several years and has even built a model of the entire campus, which includes a large ring-shaped main building and a number of other facilities.
Around the time of the city's final approval, we pointed to a video posted by the City of Cupertino covering the three-hour October 1 meeting where Apple's Environmental Impact Report was discussed ahead, with the session including a brief overview video by Apple and a presentation led by Apple's Senior Director of Real Estate and Facilities Dan Whisenhunt.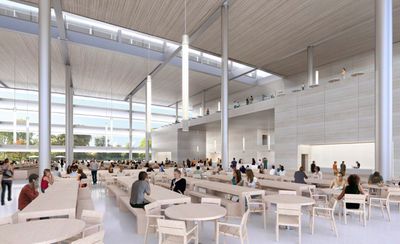 Cafeteria
Whisenhunt shared a number of new renderings of the campus as part of his presentation, and late last month
Apple Gazette
posted a number of
low-quality screenshots
from the session video showing the renderings. But now
Wired
has obtained a
full set of higher-quality images
that offer a much better look at the interior of the campus.

Lobby of auditorium building
In these images, we see for the first time the space port-like entrance to the development's subterranean parking lot, a cavernous cafeteria that spills into the grassy landscape beyond, and the glass pavilion that will serve as the entrance to Apple's new underground auditorium — a secure lair where press will gather for future product launches. In short, these documents give us the most complete picture of Apple's new home yet, a campus that Steve Jobs himself thought had a shot at being "the best office building in the world."

Parking garage
The
full set
of renderings is available at
Wired
.