Apple Further Trims iPhone 5c Production as Customers Continue to Prefer iPhone 5s
According to Chinese site C Technology [Google Translate, via Unwired View], Apple is continuing to reduce its orders for the iPhone 5c with suppliers, still working to balance production with customer demand that has remained very strongly in favor of the higher-priced iPhone 5s.
The report claims that Apple's main assembly partner ProTek (Pegatron) has slashed production from 320,000 units per day in October to just 80,000 units per day. Similarly, Apple's backup assembler for the iPhone 5c, Foxconn, is operating at only a minimum capacity of 8-9,000 units per day.
Customer interest in Apple's iPhone 5s has continued to outpace that of the iPhone 5c, with Chinese mobile phone retailer D.Phone reporting that that the iPhone 5s is holding a 3.68:1 advantage over the iPhone 5c among its customers, according to MyDrivers [Google Translate].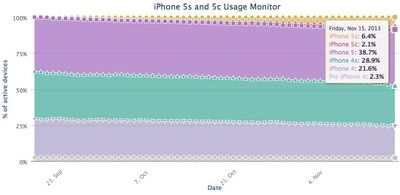 Similar signs of continued iPhone 5s strength are showing up in data from analytics firm Fiksu, which shows iPhone 5s activity outpacing iPhone 5c activity by a 3-to-1 margin. As of today, Fiksu is seeing the iPhone 5s accounting for 6.4% of active iPhone devices on its network, with the iPhone 5c accounting for just 2.1%. That gap has grown over the past month, with the iPhone 5s previously outperforming the iPhone 5c by a roughly 2-to-1 margin.
Reports of Apple cutting iPhone 5c production are not new, but if the numbers in this latest report are correct, the cuts are even deeper than previously reported.
While iPhone 5c supplies have been plentiful since the device's September launch, the iPhone 5s has been much more constrained and is only now beginning to see improved supplies. Earlier this week, shipping estimates for new orders through Apple's online store improved to 1-2 weeks, while the various models are showing significantly improved availability in Apple's retail stores.