Teardown of Retina iPad Mini Reveals A7 Chip, LG Display, Larger Battery
The experts at iFixit have performed another one of their usual high-quality teardowns on Apple's new iPad mini with Retina display, revealing that while the device is nearly unchanged visually from the original iPad mini, it features a number of internal upgrades such as an A7 chip and M7 motion coprocessor alongside the new high-resolution display.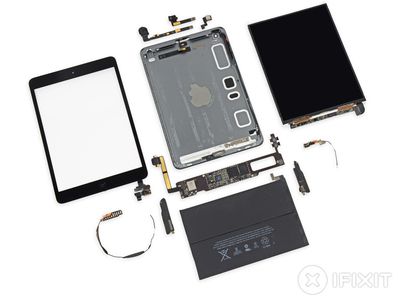 Notably, a number of parts in the iPad Mini with Retina Display appears to be very similar to those found in the iPad Air, including similarities in the display driver, M7 coprocessor, NAND flash storage, Wi-Fi module, and audio amplifers between the two devices. However, the Retina iPad Mini appears to be using a different A7 processor than the 1.4 GHz variant found in the iPad Air, with the APL0698 part in the iPad mini matching the 1.3 GHz A7 found in the iPhone 5s rather than the 1.4 GHz APL5698 part seen in the iPad Air. The Retina iPad mini's slightly slower A7 chip was revealed in benchmarks done on the device yesterday.


The main feature of the device is of course the 2048 x 1536 resolution display, which appears to be manufactured by LG. Apple has been said to be turning to Samsung as a display supplier for the iPad mini due to low yields from LG and Sharp, but it is clear that at least LG is providing some panels for the launch batch. The new iPad mini also carries a significantly larger battery than the 16.3 Whr battery found in previous iPad mini, with the new tablet's battery measured at 24.3 Whr. That extra battery capacity in large part goes toward supporting the new Retina display, with the device offering the same 10-hour battery life as the previous generation.


As is tradition for iFixit's teardowns, the company has assigned a repairability score to the iPad mini with Retina display based on the accessibility of the various components. As with the iPad Air, the firm rates the Retina iPad mini's repairability at just 2 out of 10, with the firm again assessing positive points for easy LCD accessibility and a non-soldered battery, but the amount of adhesive and hidden screws used to hold the device together make repair extremely difficult.