iPad Air Component Costs Estimated to Begin at $274, Roughly 13% Cheaper Than iPad 3
IHS Suppli has released its estimate of the component costs involved in building the new iPad Air, performing a virtual teardown based on information revealed by Apple and industry knowledge. According to IHS estimates, the component cost of the iPad Air is between $274 and $361 depending on the model, with the base model's components actually totaling $42 less than that of the entry-level third generation iPad last year despite significant technology improvements to reduce size and weight while improving performance. IHS iSuppli did not perform a cost analysis on the fourth-generation iPad, which was released in late 2012.
The estimates from IHS iSuppli cover only the cost of the various components that make up the device and do not include other costs involved in product development, manufacturing, and sales, such as research and development, software, patent licenses, marketing, and distribution expenditures. The full report has not yet been released but AllThingsD received early access.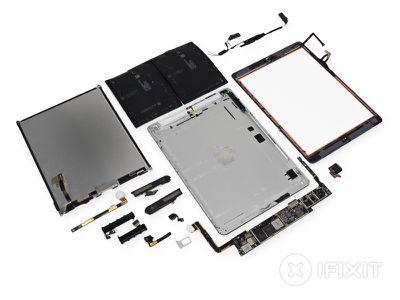 The bill of materials includes $90 for the display, $43 for the touchscreen components, $18 for the A7 chip manufactured by Samsung, between $9 and $60 for the Toshiba-made flash memory chips, $10 for the DRAM chips manufactured by Elpida, and $32 for the cellular data network chips made by Qualcomm for the LTE-ready versions of the iPad Air.
IHS analyst Andrew Rassweiler also points to the iPad Air's advances when it comes to supporting various LTE frequencies:
With the iPad Air, Apple appears to have reached a new milestone on the wireless front: It can support every LTE frequency with a single combination of chips. "This is something Apple tried to do with the iPhone 5S and 5C, but it couldn't quite get there," Rassweiler says. "One single model of the iPad Air is able to work with all US wireless carriers."
IHS iSuppli reported last month that iPhone 5s component costs were estimated to begin at $199, with the cheaper iPhone 5c's costs estimated to be starting at $173. The iPad Air was released last Friday with adoption rates reportedly outpacing last year's iPad 4 and iPad mini launches, although Apple has yet to release official sales numbers for the device's opening weekend.
The full IHS Suppli report should be released tomorrow.