Teardowns of Late 2013 Retina MacBook Pros Reveal No Improvements in Accessibility
iFixit has performed more of its traditional high-quality teardowns on both the new 13-inch Retina MacBook Pro and new 15-inch Retina MacBook Pro, revealing various improvements to the components of both that enhance performance, but also unsurprisingly make both harder to manually repair.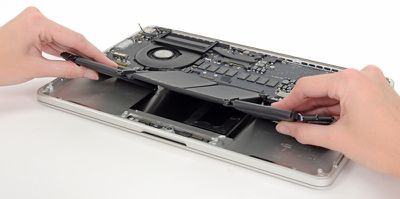 One of the more interesting changes relative to the new 13-inch model is that Apple has apparently reversed its decision to move the 13-inch model's battery away from the trackpad as seen in the previous generation of the laptop, instead choosing to glue the entire battery assembly into the case. This design is very similar to the battery of the original 15-inch Retina MacBook Pro, which was heavily criticized by iFixit for being extremely difficult and time-consuming to remove without puncturing the cells.

13-inch Retina MacBook Pro
As Apple stated during its press event, the new 13-inch Retina MacBook Pro now uses faster PCIe flash storage, but is still proprietary as seen in the previous generation and does not allow for easy replacement. Other changes to the new version of the laptop include Intel's i5 Haswell processor and Iris Graphics, the inclusion of
only one fan
as opposed to two in the last generation, a rearranged cabling system, and a
slight update
to the MagSafe 2 connector.

15-inch Retina MacBook Pro
Meanwhile, the new 15-inch Retina MacBook Pro reveals a similar internal layout to the 13-inch model, but includes higher grade components such as
Intel's i7 Haswell processor and Iris Pro graphics
. The
glued-in battery system
and the soldered RAM as seen in the previous generation are also still included, which indicates that no improvements have been made to the accessibility of the new model.
Overall, the teardowns of both new Retina MacBook Pros otherwise yield few surprises compared to the previous models, and the similar challenges of proprietary pentalobe screws, soldered RAM, an integrated display, and glued-in battery system have led iFixit to award each of the new 13-inch and 15-inch models a repairability score of 1 out of 10. Compared to the teardowns of last year's models, the 13-inch Retina MacBook Pro has scored one point lower than the last generation, while the 15-inch MacBook Pro scored the same as the previous model.