13-Inch Retina MacBook Pro Teardown Reveals Minor Improvements in Accessibility
iFixit has already performed one of its traditional high-quality teardowns on the new 13-inch Retina MacBook Pro, noting that while those looking to repair their machines face many of the same challenges seen with the 15-inch model, there are a few changes that improve accessibility somewhat.
One of the most interesting changes relative to the larger model is a battery layout that leaves the area underneath the trackpad free of battery cells. In place of battery cells in that location, Apple has elected to mount the 13-inch model's flash storage, a move that allows access to the trackpad for replacement if necessary.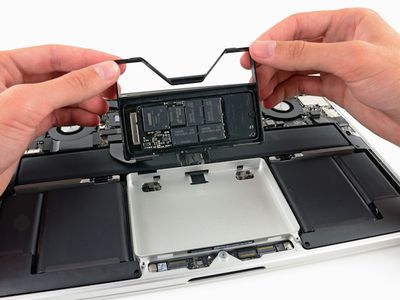 Another one of iFixit's major criticisms of the 15-inch Retina MacBook Pro design was the glued-in battery cells that were found to be extremely difficult and time-consuming to remove without puncturing the cells. In the new 13-inch model, two of the six battery cells are housed in a metal tray that includes no adhesive, while the remaining four cells still required roughly 15 minutes of work to pry loose from the case.


The teardown of the 13-inch model otherwise yields few surprises compared to the larger 15-inch model, and the similar challenges of soldered RAM, proprietary screws, integrated display, and glued-in battery have led iFixit to award the 13-inch model a repairability score of 2 out of 10, one point higher than the 15-inch model.