Graphics Cards in New Mac Pro May Be User Replaceable
It may be technically possible for buyers of the new Mac Pro to replace their graphics cards, according to a report from the French site Mac4Ever. [Google Translate]
The site claims the GPU on the Mac Pro is placed on an independent daughter card with a proprietary connection, which would make sense as it would make warranty-repairs of broken GPUs significantly easier. There is no indication if or when third-party graphics cards could be released for the new Mac Pro, but the new device is scheduled for release in December of this year.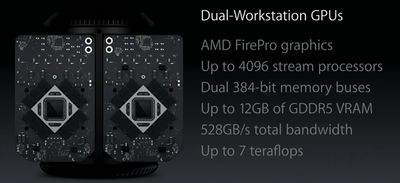 From the Google Translation of Mac4Ever's post:
According to our information, it is possible to change the graphics card in this machine. In fact, the GPU is placed on a daughter card, it is possible to remove and thus replace. As you might expect, Apple uses a proprietary connector (as is the case for SSD array present on the rest of the range). But nothing prevents, on paper, a manufacturer decides to offer compatible models on the market
A similar system is used in the MacBook Air's SSD flash storage. In 2010, Other World Computing released aftermarket SSD upgrades for the MacBook Air, allowing larger SSD options than Apple's 256GB maximum -- for a significant price. The MacBook Air uses a proprietary SSD connector and board, but OWC was able to design replacement storage options for the computer.
Apple did specify that RAM in the new Mac Pro would be user replaceable, but said nothing about the graphics cards. It's likely that the graphics cards, if it's even possible to replace them, would not be an Apple-approved user replaceable part and could affect the product's warranty, much like the aftermarket SSD replacement in the MacBook Air.