SSD Upgrade Kits Push 2010 MacBook Air Capacity to 360 GB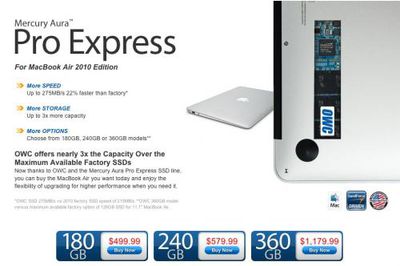 Other World Computing (OWC) last week announced the debut of its new
Mercury Aura Pro Express
solid state drives for Apple's latest 11-inch and 13-inch MacBook Air models. The new drives, which offer greater speed and capacity than Apple's factory options, are available in 180 GB, 240 GB, and 360 GB capacities. Based on a SandForce controller, the drives also feature a number of other technologies to enhance speed, performance, and data integrity.
The Mercury Aura SSD line features industry leading SandForce DuraClass Technologies:
- DuraWrite extends the endurance of your Solid State Drive (SSD).
- Intelligent Block Management & Wear Leveling automatically distributes data evenly across the entire SSD.
- Intelligent Read Disturb Management spreads the active read/write across the flash components eliminating data corruption caused by constant use.
- Intelligent "Recycling" for advanced free space management gradually re-writes data across the SSD over time to ensure data never gets corrupted.
- RAISE (Redundant Array of Independent Silicon Elements) protects the data on your drive similar to having a RAID setup.
- Best-in-Class ECC Protection for longest data retention and drive life.
Prices begin at $499.99 for the 180 GB drive and move up to $579.9 for the 240 GB model and $1,179.99 for the 360 GB model. Shipping estimates are currently listed at 19 days for the 180 GB version, 2 days for the 240 GB version, and "pending" for the 360 GB version.
All three drives are compatible with both the 11.6-inch and 13.3-inch MacBook Air models introduced in October 2010. Apple's own drive options begin at 64 GB for the 11.6-inch model and top out at 128 GB, while the 13.3-inch model comes with 128 GB and 256 GB options.
Taiwanese firm PhotoFast had previously announced similar SandForce-based SSDs ranging up to 256 GB that would be compatible with the 11-inch MacBook Air, but Apple quickly moved to halt sales of the drives. It is unclear if Apple is objecting to the new offerings from OWC and/or applying pressure to have them removed from sale.