Retina iPad Mini Launch Supplies Set to Be 'Ridiculously Tight' Until Early 2014
Following concerns expressed during the lead-up to this week's Apple media event that the company would be unable to launch the Retina iPad mini in any significant volume before the end of the year, supply chain analysts continue to expect very low supplies of the device when it launches next month.
Shortly after Apple announced the new Retina iPad mini, IHS iSuppli analyst Rhoda Alexander noted that supplies will indeed be "severely constrained", according to CNET.
"The supply for that product is severely constrained," said Rhoda Alexander, director of Tablet and Monitor Research at IHS iSuppli.

"We don't expect to see meaningful volume until first quarter [of 2014]."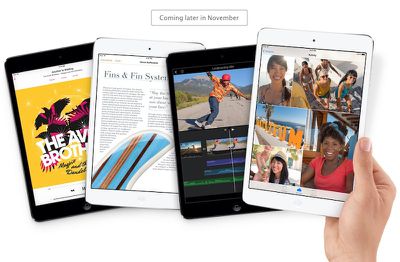 Alexander expanded a bit more in comments shared by The Telegraph yesterday, calling the supplies "ridiculously tight" at one-third the levels seen for last year's launch of the original iPad mini.
Rhoda Alexander, director of tablet research at IHS electronis and media, said: "The supply of the Retina Mini is going to be ridiculously tight in the fourth quarter.

"Apple's 2013 iPad shipment growth is shaping up to be comparatively modest and the shift in launch cycles has played a major role in the slowdown."
Production of the Retina display panels for the new iPad mini is said to be the bottleneck for Apple, with Apple's suppliers needing to optimize processes for building displays with the same number of pixels as the full-size iPad but at the higher pixel density of the iPhone and iPod touch.
Alexander is certainly not the only analyst to be predicting tight supplies of the new iPad mini, with KGI Securities analyst Ming-Chi Kuo making similar claims. Kuo's modeling has Apple shipping only a little over 2.2 million Retina iPad mini units during the fourth quarter due to those low supplies and a mid-quarter launch, compared to nearly 6.6 million units of the non-Retina iPad mini.
Apple's own announcements have also suggested low availability of the Retina iPad mini, with the company introducing the device at Tuesday's event but declining to announce an exact launch date in specifying only "November". And with the iPad Air launching on November 1, it seems clear that Apple is struggling to produce the new Retina iPad mini in quantities sufficient enough to allow it to launch as the holiday shopping season kicks off at the end of November.