iOS 7 Now on 73% of Devices, But Adoption Rates 'Much Slower' Than iOS 6
Apple's iOS 7 adoption rates may have been slower than previously thought, according to a new report from mobile advertising firm Millennial Media, which suggests that iOS 6 adoption happened more rapidly than iOS 7 adoption.
According to the report, iOS 7 impressions on Millennial Media's advertising platform climbed an average of 185 percent each day during the seven days following the September 18 launch of iOS 7. One week after launch, 16 percent of total iOS traffic came from devices running iOS 7.
Comparatively, Millennial Media saw an average of 264 percent growth per day following the seven day release period after iOS 6 was launched on September 19, 2012. A week after launch, 35 percent of total iOS traffic came from devices running iOS 6, suggesting users adopted iOS 6 more rapidly than they adopted iOS 7.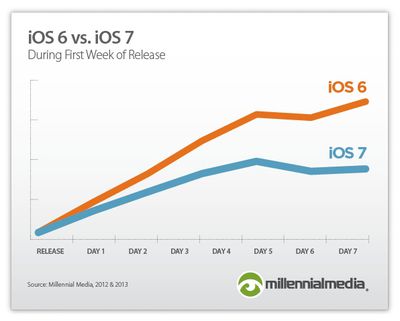 Millennial Media hypothesizes that some consumers may have been hesitant to download iOS 7, given the major interface changes associated with the update.
What's behind these patterns? We can't say for certain, but we have a couple hunches. When comparing iOS 7 to iOS 6, we think that it is very telling that impressions were the same on Day 1, and iOS 7 slowed down significantly after that. Because iOS 7 was such a major update, it seems likely that early adopters downloaded it as soon as possible, but for other consumers, there may have been hesitation after reading about how radical the changes were. The internet was abuzz with iOS 7 reviews, and people may have decided to wait some time before adopting the new OS.
Millennial Media's data seems to directly contradict earlier reports on iOS 7 adoption, which indicated users were downloading and installing iOS 7 much more rapidly than iOS 6. Back in September, just a day after iOS 7 was released, mobile analytics firm Mixpanel reported that 36 percent of active iOS devices were already running iOS 7, while ad network Chitika estimated iOS 7 adoption at 18 percent, putting both estimates far ahead of Millennial Media's own estimates.
As of today, Mixpanel's data suggests that iOS 7 is now installed on approximately 72.5 percent of devices, with adoption continuing to climb steadily. In the past, Apple has emphasized the rapid adoption of its newest operating system upgrades as a major strength of the iOS platform comparative to competing platforms such as Android, which is plagued by fragmentation.