Multiple Data Sources Suggesting iOS 7 Adoption Rates Well Ahead of iOS 6
36 percent of active iOS devices are already using iOS 7 according to information published by Mixpanel, a mobile analytics firm.
Apple has frequently touted the rapid adoption of new operating system upgrades as a significant strength of its mobile operating system, ensuring that developers who adopt new APIs and features like iCloud or Passbook will see a large market for their wares.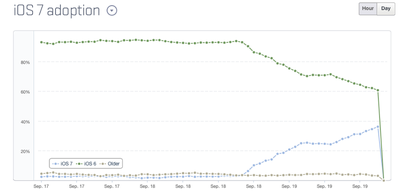 For comparison, ad network Chitika currently estimates iOS 7 adoption at just 18 percent, showing the serious variances in estimating iOS upgrade patterns. After the iOS 6 launch, Chitika estimated iOS 6 adoption at 15 percent 24 hours after release. iOS 5 took five days to reach 20 percent adoption.


iOS 5 added over-the-air updates, allowing customers to upgrade their iOS operating system without needing to plug it into a computer first. This means iOS 6 and iOS 7 upgrades were easier to perform than the jump from iOS 4 to iOS 5.
For one more data point, 44% of visits from iOS devices to MacRumors yesterday were from devices running iOS 7.