iPhone 5s Supplies Tightening in Apple's U.S. Retail Stores Ahead of Upcoming International Launches
While gold and silver models of the iPhone 5s have seen very tight supplies since the device's launch last month, a number of potential customers have noted that availability of even the more plentiful space gray models has been declining. Using Apple's in-store pickup availability system, Piper Jaffray analyst Gene Munster has been tracking supplies of the various models and has quantified a significant decline in iPhone 5s availability over the past two weeks.
Supply of the iPhone 5S has declined in the US from 27% of total SKU's available two weeks ago to 6% over the past week, based on our checks of 60 Apple stores. Separately, the percent of stores that had at least one SKU declined from 90% two weeks ago to 40% over the past week.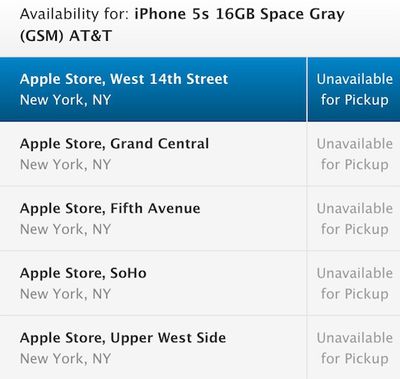 Munster believes that the decline is a positive sign for demand in the U.S., but also attributes some of the increased shortages to Apple potentially holding back some supplies in order to prepare for upcoming international launches starting later this month.
As another tool for tracking demand, Munster has also been looking at resale prices through eBay and Chinese site Taobao. According to Munster's data, iPhone 5s units have been selling at a 32% premium compared to retail pricing in the U.S., providing further evidence of strong consumer demand. iPhone 5c and Samsung Galaxy S4 units have been selling at 12% discounts to retail pricing, which Munster believes points to demand in line with supplies of the iPhone 5c.