Microsoft Office for iPad Awaiting Completion of 'Touch First' Interface for Windows Version
Dating back to the launch of the original iPad in early 2010, Microsoft has been considering the possibility of releasing a version of its Office productivity suite for the tablet platform. But despite repeated claims of an imminent launch, the only iOS release so far has been an Office Mobile app for iPhone available for subscribers to the company's Office 365 service.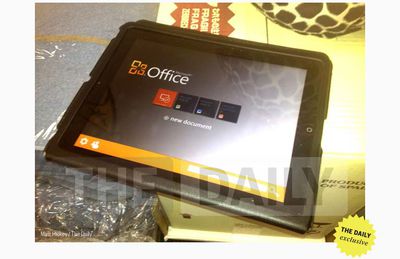 The most recent word on Office for iPad came back in April, when a leaked roadmap indicated that the next major version of Office was due to ship in spring 2014, with an iPad version arriving in the fall of that year.
Microsoft does indeed appear to be waiting to launch the next major version of its main Office suite before launching an iPad version, as The Verge reports that outgoing Microsoft CEO Steve Ballmer today revealed that Office will come to the iPad once a "touch first" interface is ready. That interface will reportedly be arriving on the next version of Office for Windows.
Speaking at a Gartner event in Florida today, Ballmer said "iPad will be picked up when there's a touch first user interface." That touch first interface appears to be making its way to the Windows version of Office first, with the iPad edition to follow afterwards. Ballmer noted the touch first interface is "in progress." [...]

Microsoft's head of applications and services, Qi Lu, also commented on touch versions of Office at an analyst meeting recently. Lu said the company is "working on touch-first versions for our core apps in the Office suite," and that Microsoft will "bring these apps to Windows devices, and also to other devices in ways that meet out customers' needs."
The timing for an Office for iPad release remains unclear based on these most recent developments, but they appear to be consistent with the previously leaked roadmap, which would put the Office for iPad launch into late next year.