Microsoft Brings 'Office Mobile for Office 365 Subscribers' to iPhone
Microsoft today announced the launch of Office Mobile for Office 365 subscribers, a new iPhone-only app that allows users to view and edit Word, Excel, and PowerPoint files. The free app requires a subscription to Microsoft's Office 365 service in order to function.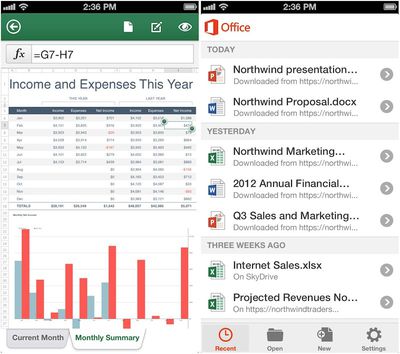 Similar to our free Office Mobile for Windows Phone that ships with every handset, the iPhone app enables great Office content viewing and on-the-go content editing capabilities.

After signing in to an Office 365 account, you can access, view and edit Microsoft Word, Excel and PowerPoint documents from anywhere. And, you can count on Office Mobile to keep all your content and formatting intact so the document still looks great when you're back on your PC or Mac.
Office Mobile integrates with Microsoft's SkyDrive cloud storage service, allowing users to edit their documents on the go and have changes automatically synced for access from other machines. Office Mobile also supports several sharing options, allowing users to view and add comments on a document and then share via either SkyDrive or email.
Additional details, a first-run walkthrough, and an FAQ are included in a separate blog post from Microsoft.
Office Mobile for Office 365 subscribers
is a
free download
from the App Store. [
Direct Link
] The app requires a subscription to Office 365, which can be purchased through the app itself. Microsoft also offers a 30-day trial of Office 365 to allow users to test out the service.