Apple Seeds New 13A598 Build of Mavericks to AppleSeed Members
Apple has seeded a new release of OS X Mavericks to members of the AppleSeed beta testing program, a little more than two weeks after the release of the eighth Developer Preview. DP 8 had a version number of 13A584, while today's release is build 13A598.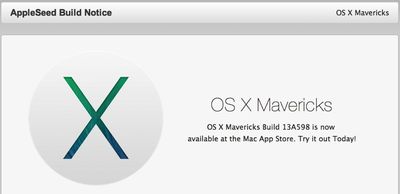 Separately, 9to5Mac reports that this build may be a GM candidate, according to AppleSeed members, while other sources have said the final release build will be several versions newer. The OS was reportedly nearly ready for release a few weeks ago, but was pushed back because of "critical bugs".
Since being announced at WWDC, OS X Mavericks is said to have picked up a few minor unannounced features. Namely, the Messages and FaceTime applications have received the ability to block phone numbers and Apple IDs from sending the Mavericks user messages and/or FaceTime calls. This addition brings parity to iOS 7 and the two operating systems will sync in this manner.
OS X Mavericks, which is expected to be released this fall, includes multiple new features like a tabbed Finder, full screen dual monitor capabilities, Safari improvements, and a new Maps app.
Apple is reportedly targeting a late October launch for OS X Mavericks.