Virgin Mobile Offering iPhone 5s and iPhone 5c at $100 Off Regular Prices
In line with its previous announcement, Virgin Mobile USA began sales of the iPhone 5s and iPhone 5c yesterday, with the prepaid Sprint brand offering a $100 discount from normal unsubsidized pricing.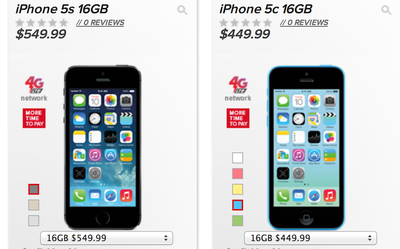 The 16 GB iPhone 5s is priced at $549 through Virgin Mobile, while the 16 GB iPhone 5c is selling for $449. Those models will be available both online and in retail stores while the 32 GB and 64 GB iPhone 5s and 32GB iPhone 5c are only available at Virgin Mobile's website.
Supplies appear to be somewhat limited at launch, with the yellow 16 GB iPhone 5c and all 32 GB iPhone 5c models with the exception of blue listed as out of stock. As for the iPhone 5s, all three gold variants and the silver 16 GB model are also unavailable. Interestingly, the 16 GB iPhone 5 remains available for $549, $100 more than the iPhone 5c, suggesting that pricing on the new models could be temporary.
Virgin Mobile first started carrying the iPhone in June 2012 with both the iPhone 4 and iPhone 4s. It did not start selling the iPhone 5 until this June, nine months after the former flagship phone debuted on major U.S. carriers.