Virgin Mobile USA Launching iPhone on June 29 with Plans Starting at $30
In line with rumors from earlier this week, Virgin Mobile USA today announced that it will begin offering the iPhone on June 29. Virgin Mobile USA is a prepaid brand operated by Sprint.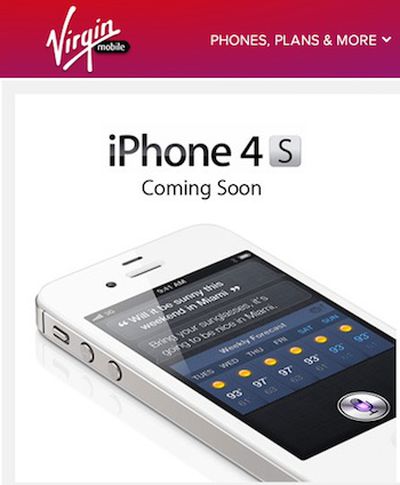 Notably, Virgin Mobile will be offering service plans for as low as $30 per month with no commitment when customers sign up for automatic payments.
Virgin Mobile's Beyond Talk unlimited data and messaging plans for iPhone start at $35 per month for access to Sprint's Nationwide Network, and customers can receive a $5 per-month plan discount when they register for automatic monthly payments with a credit card, debit card or PayPal account, making iPhone available for as low as $30 per month. Customers can also use their iPhone as a mobile hotspot through Virgin Mobile for an additional $15 per month.
Unlike Cricket, which announced last week that it will begin offering the iPhone on a prepaid basis on June 22, Virgin is not offering any subsidy on iPhone hardware, with the 8 GB iPhone 4 being priced at $549 and the 16 GB iPhone 4S coming in a $649.
Cricket is offering the iPhone for $150 less, but its service plan consists solely of a $55/month offering with unlimited talk, text, and data. With Virgin Mobile offering plans for as low as $30, low-use customers can make up that hardware price differential in six months of service.
All three of Virgin Mobile's plans include unlimited texting and data (throttled after 2.5 GB), with voice minutes being the differentiating factor. With the $5 discount for automatic payments, Virgin Mobile's plans are priced at $30 (300 minutes), $40 (1200 minutes), and $50 (unlimited minutes).
Virgin Mobile will offer the iPhone through its website and at RadioShack, Best Buy, and other select retailers.