Virgin Mobile USA to Begin Selling iPhone 5 on June 28
Virgin Mobile USA today announced that it will begin selling the iPhone 5 next Friday, June 28, offering the device on its no-contract Beyond Talk service plans. The plans start at $35/month for 300 minutes plus unlimited text and data, although the carrier begins throttling data speeds after a monthly soft cap of 2.5 GB. A $45/month plan offers 1200 minutes, while a $55/month plan adds unlimited calling, and customers can earn a $5/month discount on their bills when they sign up for automatic payments.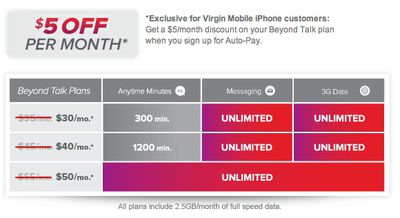 As for the iPhone itself, Virgin Mobile is offering a $100 discount off of Apple's standard unsubsidized pricing, selling the 16 GB iPhone 5 for $549.99 with the 32 GB model priced at $649.99 and the 64 GB model at $749.99.


We noted last October that Apple had Virgin Mobile-specific iPhone 5 models ready to go, although it was unclear at the time when they would be released and it remains unknown why it took approximately nine months after the device's launch to appear at the carrier. The iPhone 5 has been available through other prepaid carriers such as Cricket since as long ago as September.